If you're looking for an easy-to-prepare and delicious chicken dish, look no further than one of Food Network star Giada De Laurentiis' most popular chicken recipes: Roman-Style Chicken. Rustic and flavorful, it's a plate of food that comes together quickly and pleases even the pickiest of eaters.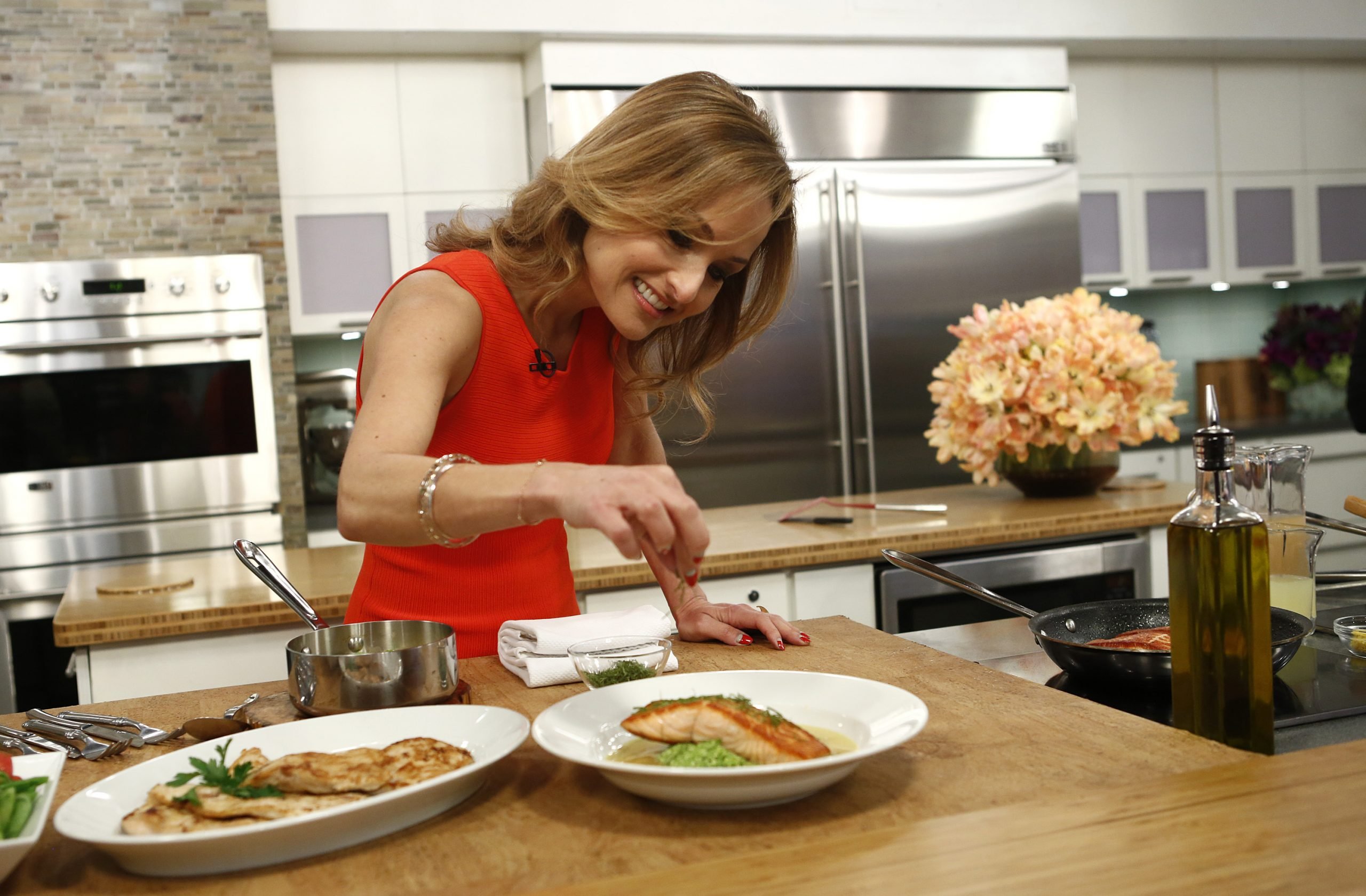 Giada De Laurentiis' Roman-Style Chicken is incredibly satisfying
The chef's Roman-Style Chicken recipe (Find full ingredient quantities, video, and reviews on the Food Network website) is one of her most popular on the Food Network site, third only (on her page on the site) to her other superstar chicken dish, Chicken Piccata with over 2000 reviews, and her Lasagna Rolls with a little over 1500 reviews.
Featuring chicken thighs, the supporting ingredients in this chicken recipe include sweet bell peppers, smoky prosciutto, garlic, tomatoes, wine, fresh thyme and oregano, chicken stock, and pungent capers for a flavorful and silky sauce you'll want more of.
"Traditionally," the Rome-born chef explains in the Food Network video for this recipe, "this is a dish that in Rome you make a day ahead and the longer it sits, actually, the better it tastes because the flavors really meld together."
An easy dish that's simple enough for even newer home cooks to make, De Laurentiis' recipe can be enjoyed over pasta of any kind, polenta, rice, or with a piece of crusty bread.
How to put De Laurentiis' chicken recipe together
The chicken is seasoned well with salt and pepper and seared in hot olive oil ("It'll give so much flavor to the sauce"). The bell peppers are sliced, and garlic is chopped. The prosciutto is sliced ("Prosciutto and chicken work so well together; it adds that little salty bite inside of the chicken"), and once the chicken is done browning, it is set to the side and the vegetables and prosciutto are cooked in the pan the chicken was seared in ("Just let the prosciutto get a little bit crispy").
The fresh herbs are chopped and added to the skillet ("Thyme and oregano hold up really well in a long simmer"), followed by canned tomatoes, chicken broth, and white wine. The chicken can be returned to the pan, nestling it into the vegetables and herbs. De Laurentiis brings the dish to a boil, then to a simmer, and finally cools it off enough to leave it in the refrigerator, Roman-style, overnight. "This dish only gets better the longer it sits," she adds.
By the following day, the chicken has been marinating in the incredibly flavorful sauce in the pan. She brings it back to a boil, adding capers and fresh parsley to finish it off.
Her chicken recipe has almost 1500 reviews on the Food Network website
To say that the Everyday Italian star's chicken recipe is popular would be a huge understatement, with words such as "flavorful," "easy," and "family favorite" appearing in many home cooks' reviews.
"Easy to follow, easy to make, great taste," said one reviewer, while another added, "I made it last night for today's dinner and my family went crazy at it …. Soooo delicious!"
If you need more encouragement to give it a try, here are another cook's praises: "Delicious Recipe. Bursting with fresh flavors from the herbs and tomatoes. And the twang from the capers was wonderful. My husband said it was his all-time favorite chicken recipe and he has been around a while. Definitely will make this again."
RELATED: Giada De Laurentiis' Lightened-Up Chicken Parmesan Is Done in Under 10 Minutes
Read the original article from
The Cheat Sheet
Giada De Laurentiis' Roman-Style Chicken Is 1 of the Chef's Top-Rated Food Network Recipes
Source:
News Pinoy Buzz