Myles Truitt is no stranger to portraying real-life people. In 2017, the Atlanta-born star starred as young Ronnie DeVoe in BET's The New Edition Story. Since then, he's appeared in series likes Queen Sugar and Black Lightning. However, his most recent project, the Curtis "50 Cent" Jackson-produced Starz series BMF, showcases the 19-year-old in a new light. BMF is based on the real-life story of Demetrius "Big Meech" Flenory and Terry "Southwest T" Flenory. The brothers came of age in Detroit in the '80s and would run one of the biggest drug enterprises in the country. In BMF, Truitt portrays B-Mickie, based on the Flenorys' lieutenant, Derrick "D. Meeks."
Ahead of the BMF Season 1 finale, Truitt spoke with Showbiz Cheatsheet about the drama series, getting into B-Mickie's head, and stepping aboard Stranger Things.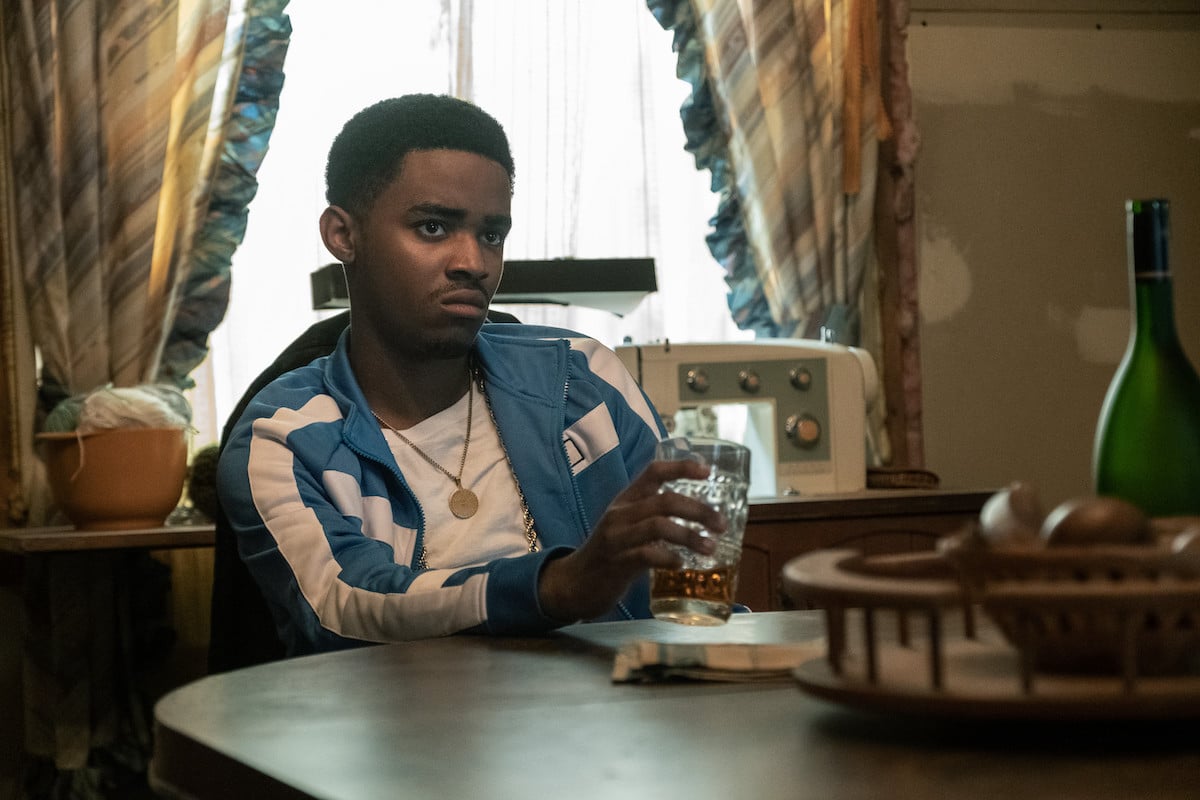 RELATED: What Does 50 Cent's New Starz Show 'BMF' Stand For?
Myles Truitt says 'BMF' enticed him because of the time-period
Having worked in the time period before, Truitt was eager to revisit the '80s. "The main reason I wanted to play this role wasn't that it was B-Mickie," he said. "It was in the '80s. The '80s and the '90s are my favorite periods. Like hands down, when it comes to music, clothing, architecture, all of that. I just love that."
Though he was eager to travel back in time, Truitt says his knowledge of BMF was limited before he joined the project. "I'm a 2002 baby," he revealed. "So BMF, they were coming down as far as how popular they were. They were trying to be more secretive around the 2000s. I didn't know too much about them."
Still, when Truitt won the role of B-Mickie, he went digging to see what he could learn about Big Meech and Southwest T. "I did tons of research," he explained. "I watched about three documentaries on YouTube. There was another one on HBO Max. When it came down to being Mickie, though, I didn't have the source. I had to go toward the dialogue in the script and understand the beats and the moments that he was going through that were developing his character and how he was performing."
While the real Derrick "D-Meeks" wasn't accessible, Truitt did have some valuable resources in BMF creator and Detroitor Randy Huggins, Southwest T, as well as Demetrius "Lil Meech" Flenory Jr., who portrays his father on the show. "I felt like I had a little bit less pressure on me because I didn't have the real D-Meeks there on me," the actor revealed. "It was Terry there, him being hands-on with Da'Vinchi. Then Lil Meech had his father calling on the phone every other day, just giving him a different context of what was going on in the scenes and what he did."
RELATED: 'BMF': What Does Big Meech Think About the Show?
Truitt formed a deep bond with his 'BMF' co-stars
Though B-Mickie appears calm and contained, he has a viciousness the is constantly simmering under the surface. Truitt worked diligently to make sure that every aspect of B-Mickie came through on-screen — even in the moments where there was no dialogue. "It was me sitting down in my room if I'm not doing anything," he explained. "I'm going to play some [Run-DMC's] King of Rock and get my mind going on for this next scene. So it's just continuously keeping your mindset in that environment. I dig deep into myself. Past experiences. Just learning and educating myself on what I see and what I'm observing."
Though BMF certainly deals with some dark material, including violence and drugs, Truitt revealed that the set's tone was anything but dark and heavy. "It felt like a family reunion.," he said. "We were playing spades at lunch. Then afterward, we'd hang out. It was real family-oriented. When it came down to Ajiona and me (Ajiona Alexus portrays Kato on BMF), I felt like our relationship was very pinpointed because it was important, not only to me but for her to be comfortable. I made sure I was correct throughout the whole season because she was my only love interest. Shout out to Ajiona, Vinch (Da'Vinchi), and Meech; I love them like my bros. I didn't know that honestly, I would be friends with them."
The tight bond that the actors formed was primarily due to Huggins, 50 Cent, and executive producer/director Tasha Smith. "[Tasha] brought such an energy on set that wasn't given and couldn't be provided by anybody else," Truitt explained. "She honestly was hands-on with everyone. She knew what she wanted out of everyone. Everyone loved her energy and was ready to come on set just to see her, not even work. Randy, applause to him because he pinpointed the reality of what he wanted to be shown from Detroit. 50, I loved working with him. He's a down-to-earth type of guy. I have so much respect for him. I still aspire to this day and manifest to be a director/ executive producer."
RELATED: 'BMF': Why Is Lamar so Obsessed With Power?
The season 1 finale is going to be explosive
In the penultimate episode of season 1, "All in the Family," B-Mickie discovered that Kato has been working with Lamar (Eric Kofi-Abrefa), Meech, and Terry's murderous rival. But Truitt has warned that that's only the tip of the iceberg. "I hope you're all ready for it," the actor laughed when he was asked about the season finale, "The King of Detroit." "And the season next to come. I say that because Lamar now has no origin of family, no source of money. He's crazy now; he's insane. We have Meech now protecting not only himself and his brother but his family as well. Then, B-Mickie's now finding out what's happening under his nose and why Kato is really pursuing him—not knowing that B-Mickie, is crazy and he really loved this girl. Something's going to happen. So I hope you all get ready for it.
Though BMF will return for a season 2, we will see Truitt long before then in Season 4 of Netflix's Stranger Things. "Stranger Things season four comes out summer of 2022," he shared. "I will be playing the role of Patrick. He's a basketball star. He befriends Lucas on the basketball team at Hawkins High. And throughout the season, just exploring, and I'll give you one hint. There's no Demogorgon."
The season finale of BMF will air on Nov. 21 at 9 p.m. EST on Starz.
Read the original article from
The Cheat Sheet
Myles Truitt Talks 'BMF' and Why Fans Should Brace Themselves for the Season 1 Finale
Source:
News Pinoy Buzz