If Pete Davidson's birthday wish this year was to celebrate with Kim Kardashian West, Kris Jenner, and Flavor Flav, then it came true! Flavor Flav posted photos of the Saturday Night Live star grinning from ear to ear while surrounded by loved ones, including rumored girlfriend Kardashian West.
Here's what happened and what fans are saying about the pictures from Davidson's party.
Pete Davidson and Kim Kardashian West have allegedly been dating since October
Kim Kardashian West, who filed for divorce from husband Kanye West in February, hosted Saturday Night Live on Oct. 9. Fans started speculating about a potential romance between her and Davidson when they shared a kiss on camera during a sketch. Davidson was playing Disney's Aladdin, and Kardashian West was Princess Jasmine.
The rumors heated up when Kardashian West and Davidson were spotted holding hands and snuggling up on roller coasters at Knott's Berry Farm in Orange County, California over Halloween weekend. On Friday, Oct. 29, they were on what appeared to be a double date with Kourtney Kardashian and her fiancé Travis Barker.
Just a few days after their Halloween date in California, the alleged couple took their romance to Davidson's hometown, Staten Island. On Nov. 2, they had a private dinner on the rooftop of Campania, an Italian eatery.
Davidson recently revealed that he likes to take first dates to dinner or a movie. "If you go to a great restaurant and even if I'm a s— date, it's like, at least the food was great," Davidson said on Nov. 16 (per People). "So like, she could go home and be like, 'Well, … you paid, and I ate.'
Pete Davidson celebrated his birthday with Kim Kardashian West, Kris Jenner, and Flavor Flav
The SNL star's birthday is Nov. 16, and this year, he celebrated with some famous friends. On Nov. 17, rapper and reality star Flavor Flav posted photos on social media of himself partying with Davidson, Kardashian West, and her mother, Kris Jenner. Davidson, Kardashian West, and Jenner were all wearing matching brown plaid attire.
Flavor Flav captioned the post, "FLAVOR FLAV::: celebrating my adopted son Pete Davidson's birthday wit the legendz @kimkardashian and @krisjenner
Pete,,, I never took a clock off my neck to give to someone and you will be the last person I do this for,,, it lookz real good on you,,,, happy birthday,,,,"
Since Davidson is already meeting Kardashian West's family, could the couple be getting serious? They are both known for whirlwind romances – Davidson famously got engaged to pop star Ariana Grande after a month of dating in 2018, and Kardashian West's second marriage (to athlete Kris Humphries) lasted 72 days. And since their birthdays are less than a month apart (the reality star's birthday is on Oct. 21), it's possible that the two stars celebrated Kardashian West's birthday together, too.
Although neither Davidson nor Kardashian West have commented publicly on their budding romance, it certainly seems like they are Instagram-official now.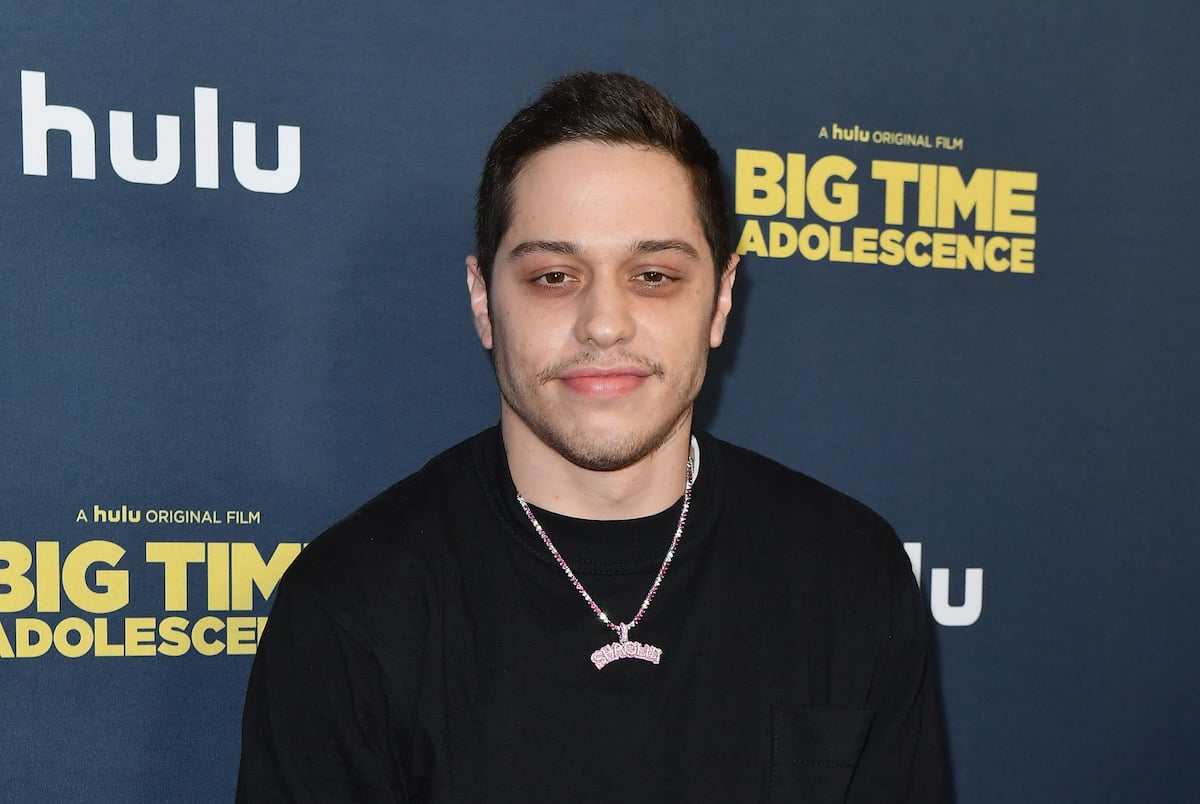 Fans are going wild over the photos of the alleged couple
Fans can't seem to get enough of the new couple. They have been leaving comments on Flavor Flav's Instagram post, saying things like, "love this for Pete
" and, "Best thing I've seen on the internet in a while!

"
Another fan commented, "Hahahaha Pete Davidson looks like the happiest kid at a birthday party, you two are too cute together

" while another wrote, "2 people that both deserve happiness

"
Some fans seemed confused by the match, saying things like, "WHO WHAT WHEN WHERE WHY what is this i'm so confused" and, "Lmfaooo this is the funniest of the Khardashian relationships."
RELATED: 4 Times Machine Gun Kelly and Pete Davidson's Friendship Was Incredibly Wholesome
Read the original article from
The Cheat Sheet
Pete Davidson Celebrates 28th Birthday With Kim Kardashian West, Kris Jenner, and Flavor Flav
Source:
News Pinoy Buzz