Kyle Richards from The Real Housewives of Beverly Hills said now that the shock is gone, Dorit Kemsley is struggling after enduring a violent and terrifying home invasion.
Kemsley was held at gunpoint in her home and her children were in the next room. She recounted the Oct. 30 robbery, sharing that she's "thrown myself straight back into work" and that her children were unaware of exactly what happened and they were sleeping. And while Kemsley was ready to move forward, Richards said she's having a hard time.
Dorit Kemsley from 'RHOBH' isn't doing well after terrifying home invasion
Richards appeared on Watch What Happens Live with Andy Cohen, which is when host Andy Cohen asked her for an update. "You know, she's doing not so great to be honest," Richards said on the WWHL After Show. "When it first happened she was unbelievably strong. And I was so impressed with how she handled the situation when it actually happened."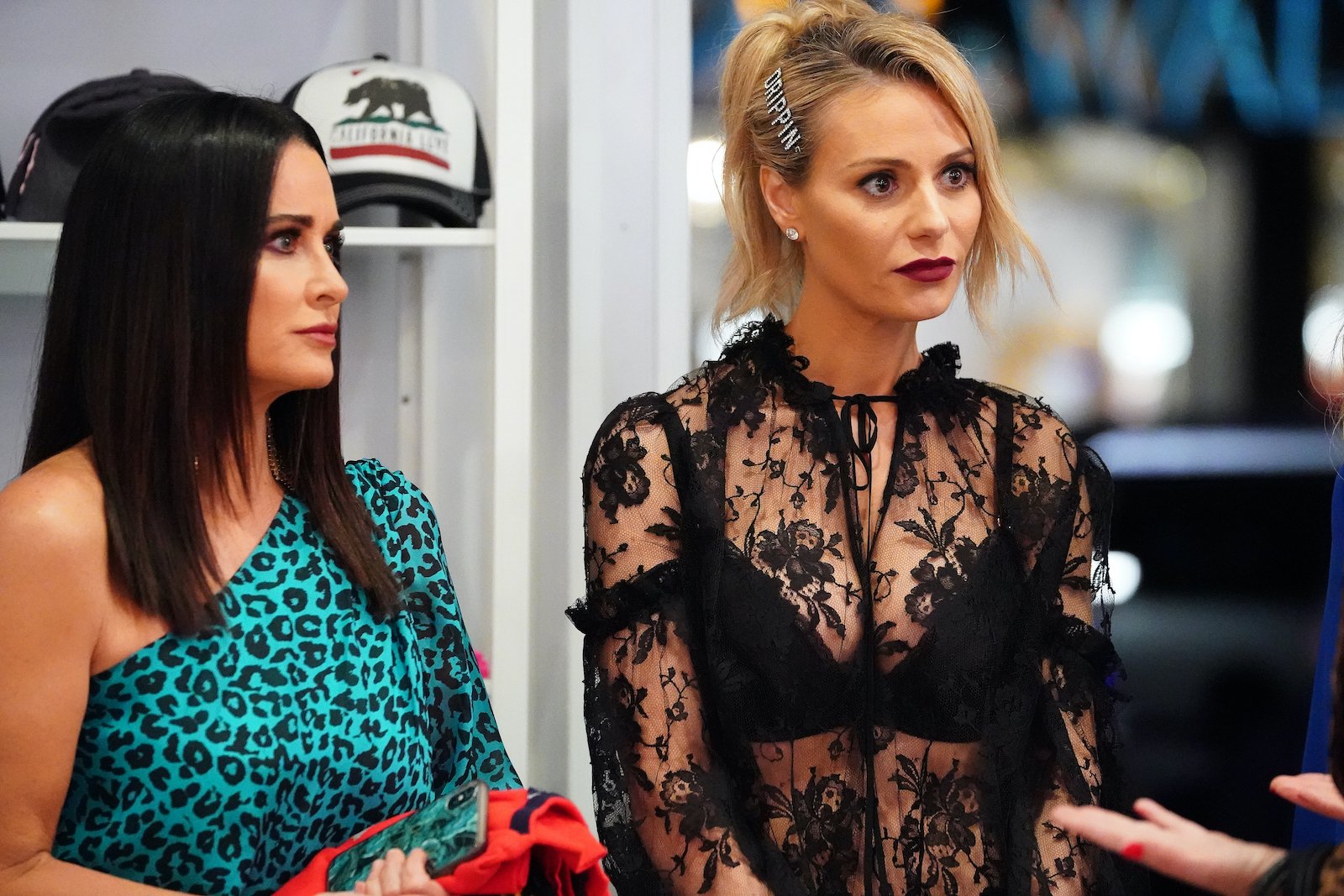 "And then the days after I think the shock wore off and it hit her," Richards continued. "And I think it's gonna take her a long time to get over that. I don't know if you ever get over something like that. You know having two men in your bedroom in the middle of the night. And one man downstairs. And just to be home alone with your kids is just absolutely terrifying."
"PTSD for sure," she added.
Drama unfolded after Dorit Kemsley's home invasion
Being held at gunpoint while millions are stolen from your home is terrifying enough. But then Kemsley became the center of social media drama. Dana Wilkey, who appeared as a friend on RHOBH in the past, posted on Instagram about Kemsley's home days before the home invasion.
The document she shared became a point of contention with Kemsley's husband P.K. and former cast member Teddi Mellencamp as they both suggested that her post may have sparked the home invasion. Kemsley also referred to Wilkey as a c***.
But Wilkey pushed back that she did anything wrong. "That's just not true Pk [Kemsley] RE-posted my post again for hours after in his CT of the week and then deleted it," she replied on Instagram. "The document posted was from the Secretary of State website. The house was also listed for sale and you could Google her name and find it. Instagram reposted it after reviewing it and when Teddi dm'd me asking me to delete I did do right away. I'll leave it there."
The Kemsley home was
burglarized in 2019 too
This isn't the first time Kemsley's home was burglarized. Along with a slew of other celebrities, the Kemsley house was targeted in a string of Beverly Hills robberies in 2018 and 2019.
The robber hit multi-million dollar celebrity homes that were for sale and at the time, Kemsley's was on the market for $8 million. Real estate brokers David Parnes and James Harris from Million Dollar Listing Los Angeles held an open house at Kemsley's home. And two weeks later, their home was robbed. Parnes and Harris removed the listing as a result but later learned Kemsley's home was one of many that were robbed.
Benjamin Eitan Ackerman was ultimately arrested and police said he posed as a broker or buyer at open houses. "People didn't challenge him when he walked into their houses. When he showed up, he was dressed to the nines. He acted the part," LAPD Detective Jared Timmons told People.
RELATED: 'RHOBH' Revealed: Who Was the 'Bravo Insider' Who Said Lisa Vanderpump Would Return for $2 Million? (Exclusive)
Read the original article from
The Cheat Sheet
'RHOBH': Kyle Richards Says Dorit Kemsley Is 'Doing Not so Great' After Home Invasion
Source:
News Pinoy Buzz