Comedian and actor Steve Martin has been around for a while. But did you know one of his earliest jobs in Hollywood was writing for The Sonny and Cher Comedy Hour? And after his time on the show ended, he made a joke former co-worker, Cher, didn't find funny. In fact, Martin said she was so "upset" she sent him an angry letter to let him know about it.
What did Martin say to make Cher so mad?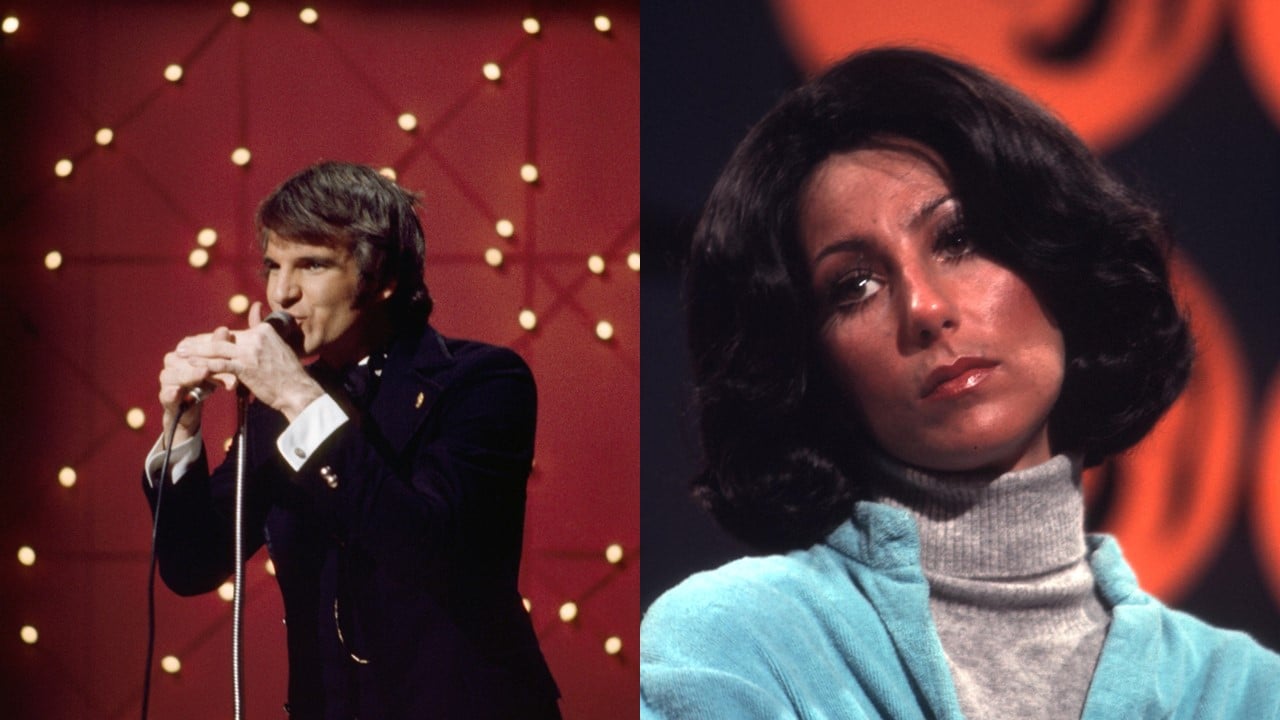 Steve Martin wrote for 'The Sonny and Cher Comedy Hour'
Before making it big in his own right, Martin wrote and performed for The Sonny and Cher Comedy Hour. Check out this YouTube clip for a peek of a young Martin with brown hair and a bushy beard, featured in a hilarious skit alongside Sonny, Cher, and Burt Reynolds.
According to IMDb, Martin was a writer for the show starting in 1971 and was featured on camera in 1972. He stayed as a writer through 1973 and the show reportedly ended due to Sonny and Cher's divorce in 1974. By then, Martin had moved on to other TV writing jobs.
He also frequently tried out stand-up material while visiting The Tonight Show Starring Johnny Carson before he got a big break. Eventually, his leading role in 1979's The Jerk made him a star and cemented his place in the upper echelons of comedy history.
Steve Martin didn't want to 'end up in Vegas singing 'I Got You Babe''
As Martin tells it, he started to worry about his career trajectory shortly after he stopped writing for The Sonny and Cher Comedy Hour. He told Stern, "I had been doing my act. I had been writing for television, which was a fluke job."
But he said he got to a point he felt like he wasn't getting enough wins to continue. "When I was about 29, I thought, 'If I don't have some success I better stop,'" he confessed. And how he articulated those feelings in an interview following his time as a writer for Sonny and Cher caught the attention of the legendary pop star.
Martin said on The Howard Stern Show, "I got in trouble once with Cher. I was being interviewed later and — you know, I had written for The Sonny and Cher show — and I said, 'Oh, I just don't wanna end up in Vegas singing 'I Got You Babe.'"
And as Martin soon found, Cher heard his joke but apparently wasn't laughing.
Steve Martin's joke offended Cher
It seems Cher didn't see anything funny about the prospect of Martin ending up with a show in Las Vegas singing one of her songs. He shared with Stern, "She was really upset," in large part because they'd worked together.
So, he said he sent Cher an apology letter back to try and smooth things over. He explained to the superstar how he didn't mean to imply there was anything wrong with her doing it. It just wasn't his aspiration — and there doesn't seem to be anything wrong with that.
With about 50 years in comedy since then now behind him, it feels like singing Sonny and Cher in Vegas wasn't what Martin was meant to do.
RELATED: 5 Times 'Only Murders in the Building' Star Steve Martin Dazzled Fans With His Banjo Skills
Read the original article from
The Cheat Sheet
Why Did Cher Once Send Steve Martin an Angry Letter After They Worked Together?
Source:
News Pinoy Buzz