Tupac Shakur was loved by many in the industry during his brief yet impactful career. His image was two-fold. On one hand, he was viewed as a visionary and a leader, and on the other, he was perceived to be troubled and always found himself at the center of it. Those who are fans and close associates of Tupac agree that things became further complicated by Tupac's relationship with Suge Knight.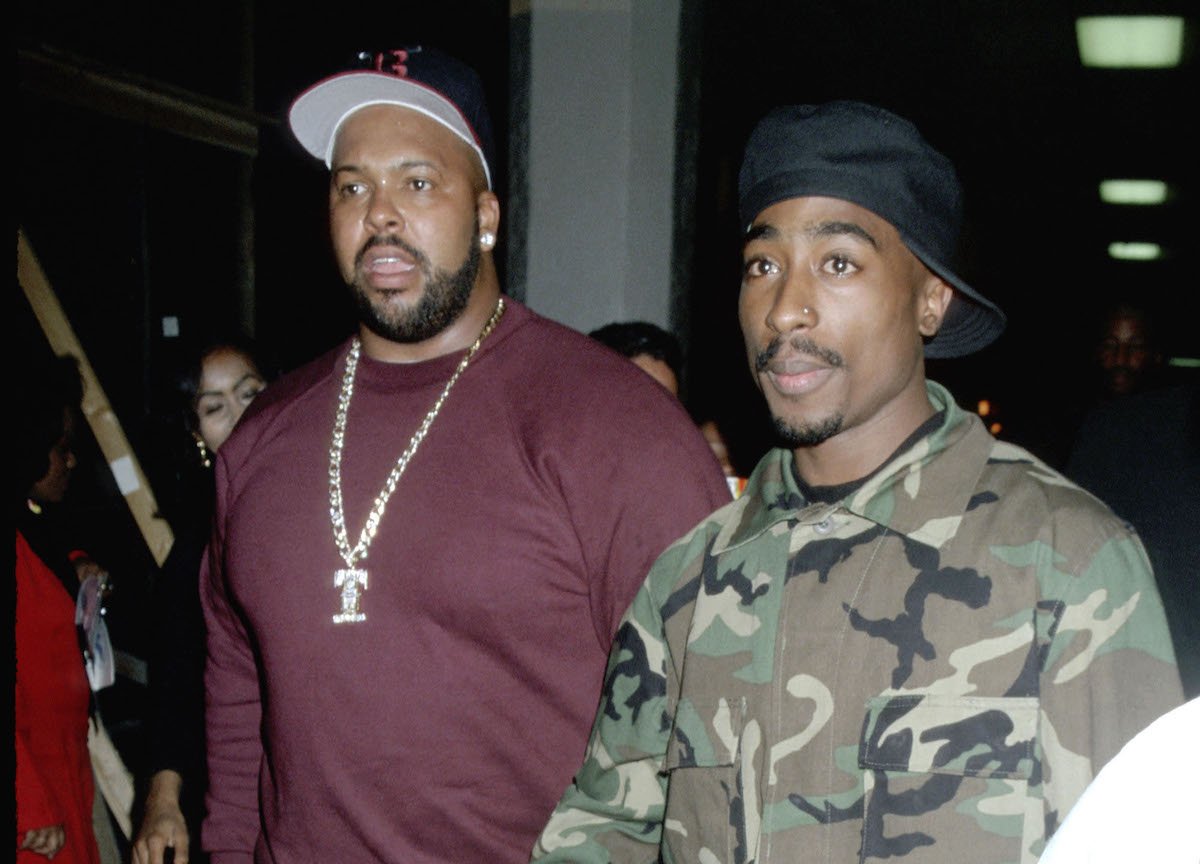 Knight is notorious for having one of the biggest hip-hop labels in history, but also for being intimidating and violent. He signed Tupac to his record label while Tupac was serving a jail sentence. Feeling indebted to him, Tupac was a public advocate for Knight. But many view Knight as Tupac's downfall. One friend even says that Knight knew how to manipulate Tupac.
Danny Boy says Suge Knight was Tupac Shakur's most manipulative friend
When speaking with The Art of Dialogue, Tupac's friend Danny Boy spoke of the dynamic between the late rapper and Shakur. Danny Boy is a singer who collaborated with Tupac on his single "I Ain't Mad at Cha."
In response to an old interview in which Knight alleged Tupac didn't have any real friends until he became part of the Death Row Records crew, Danny Boy says otherwise. "All of us claim to be a better friend – when we are friends [with someone]. Showing your friendliness, it's about showing it," he said. "That's Suge's opinion. I think it was a lot of dudes that came over [to Death Row] with Pac that he really loved and that loved him as well."
RELATED: Journalist Ed Gordan Says He Warned Tupac Shakur Of His "Thug" Friends Two Weeks Before Shakur Was Murdered
Danny Boy also hinted at being mistreated by Knight and witnessing Knight do the same to others. "If Suge's friendship was based on how I was treated and it was on the same ship type of s–t, I don't believe that s–t. He's probably the best manipulative friend, the one that was good at manipulation," he added.
He also spoke of Knight's inability to have real meaningful relationships that were not transactional. "I don't know if Suge knows how to be nobody's [sic] friend. He'll call you a son or a brother and the s–t that he does [shows otherwise]," he continued. "Being friendly and saying that somebody is your friend, that's about showing and he hasn't really proven to be a friend. I have friends now that I've had since I was 5,6 years old. We may not talk every day, but we're still friends. He has people he's known since that same time and they don't like him. He hasn't had a great record of showing friendship."
Another Death Row Records crew member blasted Suge Knight for being a negative influence on Tupac Shakur
Mob James was also around Tupac in the last year of his life due to his own affiliation with Death Row Records. He was a close acquaintance of Knight's and says he saw a change in Tupac under the tutelage of Knight.
In his own interview with The Art of Dialogue, he spoke about Knight having a negative influence on Tupac. According to James, there's certain activity as an artist that Tupac shouldn't have been around.
"Was he a bad influence, yes, because he didn't teach or show Tupac different s–t. If you're going to mentor him. Mentor him," he said. "If you're going to use him as a tool as far as it's just for money, you should have sent some guys on him and far away from that s–t [the drama]. Tupac could have had his own weed and own liquor, he didn't have to smoke with the homies. He didn't have to watch the homies beat up on people and he shouldn't have been around that."
Within a year of signing to Death Row Records, Tupac was killed on a Las Vegas street in a drive-by shooting. His murder has yet to be solved.
RELATED: What Happened to the Man Suspected of Murdering Tupac Shakur?
Read the original article from
The Cheat Sheet
Friend of Tupac Shakur Says Suge Knight Was Manipulative of the Rapper
Source:
News Pinoy Buzz