HBO greenlit The White Lotus Season 2 back in August. It's going to have a new cast, including Aubrey Plaza and Michael Imperioli. Jennifer Coolidge is reported to return too. Season 1 cast member Murray Bartlett has an idea for Armond's return, too.
[Warning: This article contains spoilers for The White Lotus Season 1.]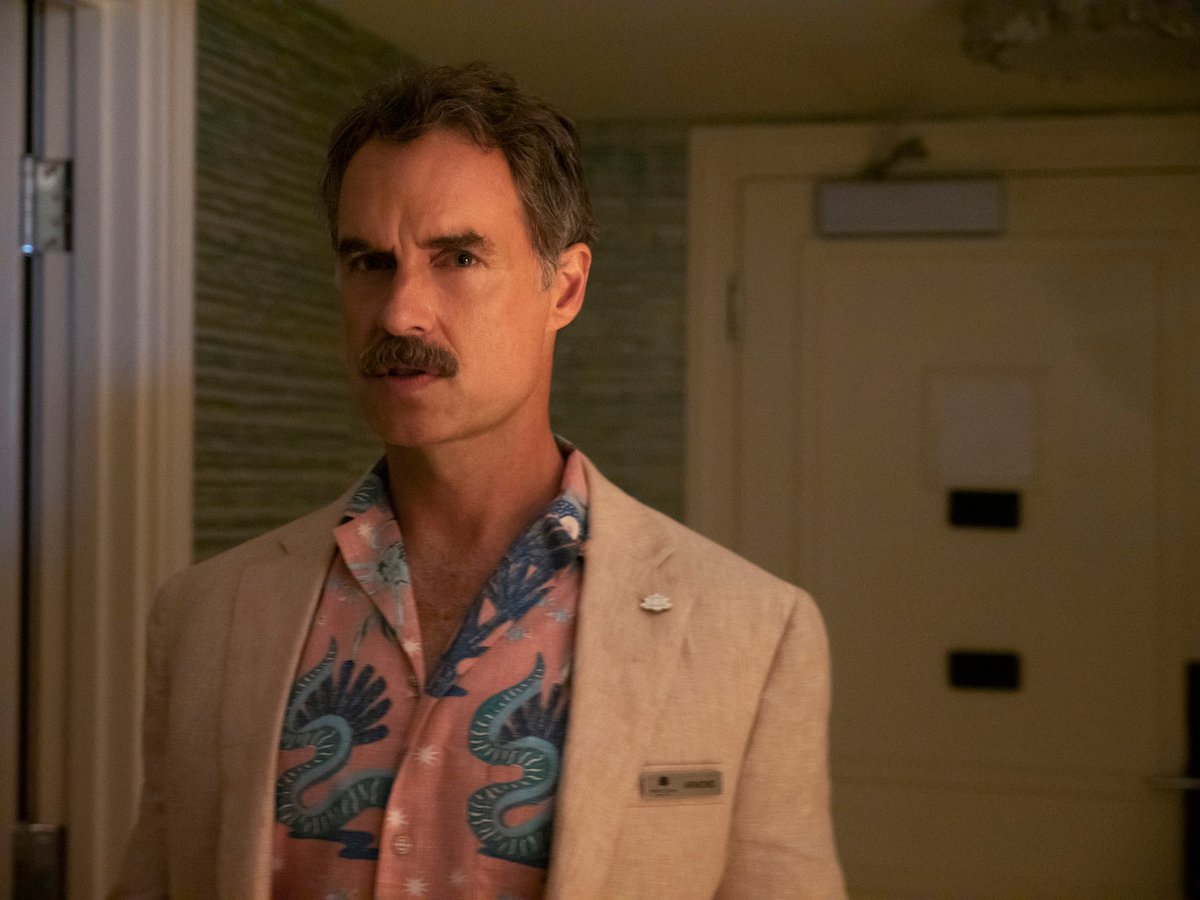 Bartlett was a guest on the Just For Variety podcast on Jan. 25 to discuss his SAG and Critics Choice Award nominated performance in The White Lotus. While The White Lotus Season 2 hasn't called yet, Bartlett has discussed it with creator Mike White.
'The White Lotus' Season 2 would have to be a prequel for Armond to return
The season finale of The White Lotus revealed hotel manager Armond was the one who died, shot by guest Shane Patton (Jake Lacy). If The White Lotus Season 2 could take place before season 1, Armond could show up again.
RELATED: 'The White Lotus' Season 2: Director Mike White Worries About Making It
"The night before we started shooting, Mike made a joke," Bartlett said on Just for Variety. "He was saying whoever is the nicest person and the best actor gets a spinoff series. I was like, 'Excuse me, what about me? I die.' He was like, 'We'll go back in time. Not a problem.'"
'The White Lotus' Season 2 will be different from season 1
White and HBO have already revealed some details about The White Lotus Season 2. It will be set in Sicily instead of Mauii. With Coolidge reprising her role, it's unlikely they're doing a prequel though.
"He was joking but wouldn't that be [nice]?" Bartlett said. "When they said they were going to do a second season I was like, 'Maybe like 2008?'"
Murray Bartlett has a lot of backstory for an Armond prequel season
The White Lotus viewers did learn a bit about Armond's past. Armond has been sober for five years, so there could be a story about the events that led to his sobriety.
"There was more of a backstory written into the script and some of those pieces fell away, which makes sense, in the final cut," Bartlett said. "One of the things that I found really useful was that he wanted to be an actor. I relate to that. I worked in hospitality, I know a lot of people who work in hospitality, I know people who started out as performers and have moved into hospitality. Some people who have done that who are perfectly happy and others who have this broken dream of having wanted to be a performer."
Armond certainly gave the performance of a lifetime on The White Lotus Season 1. Bartlett would love to explore how he developed those skills.
"It was a really familiar thing to me and really useful because he is a performer in that role as a manager," Bartlett said. "He has to act with those people, those obnoxious people that he's dealing with. And also there's a joy in that performance for him because that's where he gets to do what he loves. It's the only place he can do what he loves because it didn't work out for him as an actor. That was a really important piece for me because I relate to it so personally, but I think it just also makes sense in terms of the character."
RELATED: 'The White Lotus': Should the Series Pull an 'American Horror Story' With Its Season 2 Cast?
Read the original article from
The Cheat Sheet
'The White Lotus' Season 2: How Murray Bartlett Could Return as Armond
Source:
News Pinoy Buzz