There's so much about the late Biggie Smalls, aka the Notorious B.I.G., that is so relatable and a far cry from his drug-dealing "gangsta" persona described in his hip-hop songs. Born Christoper Wallace but known as "Biggie," 2022 marks the 25th anniversary of his death. He was fatally shot in LA on March 9, 1997, shortly after Tupac was killed and right around the time his rap career was taking off.
Before his music career, a young Biggie got into trouble selling crack on the street corner. He also did some things every rebellious kid can relate to, like lying to his mom so she wouldn't find out what he was doing to make money.
The Notorious B.I.G hid everything from his mom, and it worked for a while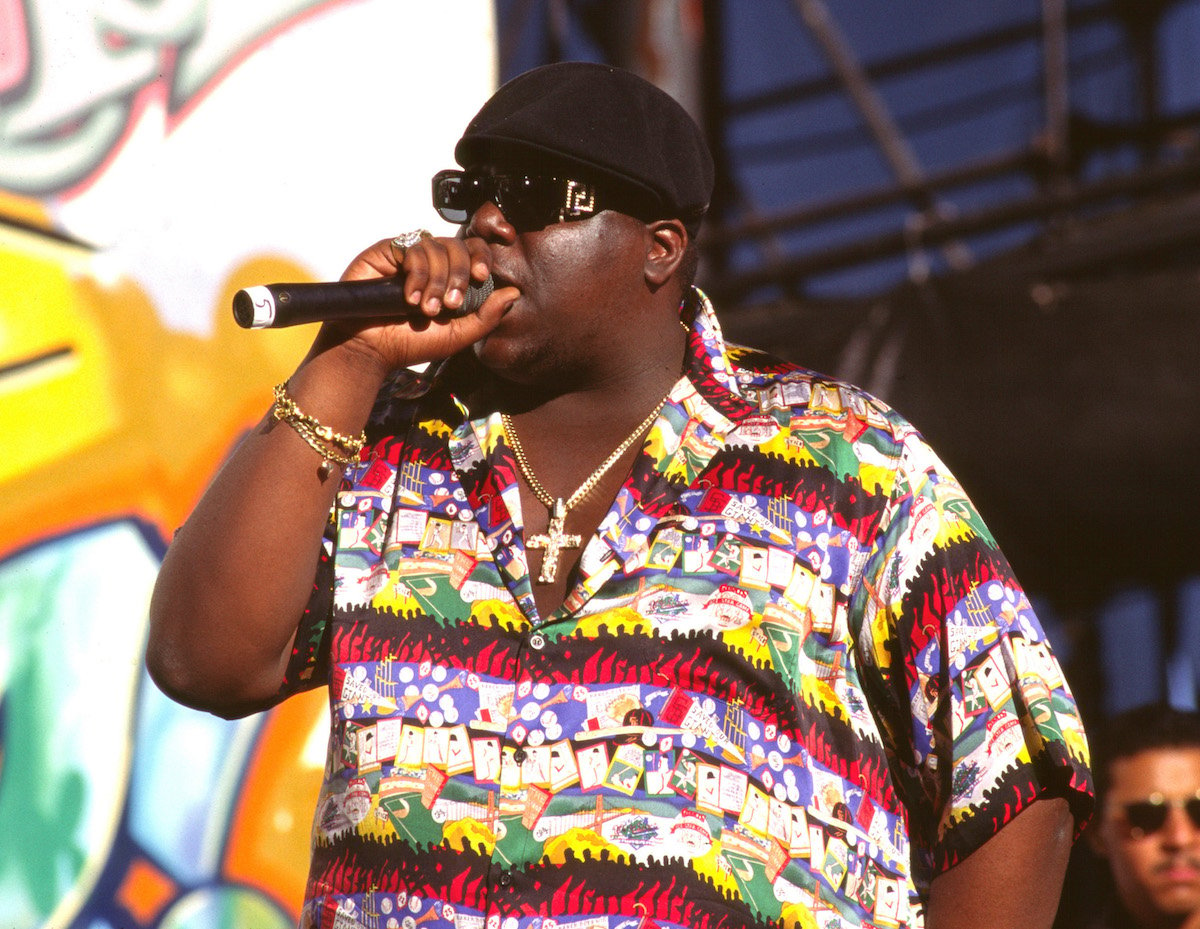 Like the lyrics of Ready to Die's title track read, Biggie "used to be a crook, doing whatever it took from snatching chains to pocketbooks." He also robbed people at ATMs to make extra cash. This was before he was even a teenager.
What made him become a thief? He wanted to look cool. The Notorious B.I.G. shopped for trendy clothes and later rapped about designer brands. But if you're a kid with a new wardrobe, your mom will want to know how you can afford it. Voletta Wallace, Biggie's mom, didn't notice all of her son's new clothes, at first. That's because Biggie, being a creative genius, came up with a hilarious idea: to keep his new clothes on the roof.
He told Interview, "I couldn't let my moms know I had all that money, so I couldn't buy no sneakers or nothing because I couldn't bring them in the house. It got to the point where I used to hide all my clothes on the roof."
Biggie ran a drug-dealing business from his bedroom
Biggie wasn't satisfied with stealing just to buy a few nice outfits; he wanted more. The "Ready to Die" song continues to tell his story with the lyrics, "I got some drugs … I want it all from the Rolexes to the Lexus."
As a 12-year-old, he admired the guys he saw hanging out on Brooklyn's Fulton Street. He told Interview, "I knew they was fly as hell — they had hundred-and-fifty-dollar Ballys on and bubble gooses and sheepskins … And then I heard about crack on the news." The Notorious B.I.G. figured out that this must've been how those guys were making money.
So when he had some extra cash saved up from his side hustle as a petty thief, his next-door neighbor said, "Yo, why don't you take some of that money, and we'll go to the corner and get our thing going."
And that was all it took. A crack dealer on an NYC street corner could make thousands a day at the height of the crack epidemic in New York City in the late '80s, reports the Washington Post. It required buying cocaine as powder and turning it into crack.
Soon Biggie was running a drug dealing business from his bedroom, and his mom didn't even know it. She once saw a plate of crack drying out on the windowsill and threw it away. She thought it was old mashed potatoes and reprimanded Biggie for leaving a dirty dish in his bedroom.
The Notorious B.I.G was finally focusing on his music — until his life was cut short
Biggie's debut single "Party and Bulls—" was released in 1993, the same year his daughter T'yanna was born. He was about to become a superstar, but the money wasn't rolling in yet. So he continued to sell crack.
Finally, after a few run-ins with the law and a call from Diddy, aka Sean Combs, who was about to stage an intervention, Biggie was finally on the right track. His first album, Ready to Die, produced by Diddy, debuted in 1994. Biggie was on his way to fame and fortune. Tracks like "Juicy" and "Big Poppa" are still popular today.
Living up to his name, The Notorious B.I.G. won big at the Source Hip-Hop Music Awards in 1995, earning New Artist of the Year, Lyricist of the Year, Live Performer of the Year, and Album of the Year. The single "Big Poppa" was a nominee at the 38th Annual Grammy Awards in 1996 for Best Rap Solo Performance, as the Recording Academy reports.
Then in February 1997, Biggie was in LA to shoot a video for "Hypnotize," the lead single on his upcoming Life After Death album. He hung around to attend the Soul Train Music Awards on March 7, Biography reports. Then he went to a party co-sponsored by Vibe magazine the next night. After leaving the party, on his way back to his hotel, Biggie was fatally shot.
On March 25, 1997, just one week after Biggie's funeral, Life After Death was released. It went on to become certified Diamond, with over 11 million copies sold to date. The hit singles "Hypnotize" and "Mo Money Mo Problems" reached No. 1 on the Billboard Hot 100 chart. Biggie earned three Grammy nominations the next year, including Best Rap Album.
RELATED: Despite the Notorious B.I.G.'s Murder Remaining Unsolved, His Mother Believes Justice Will Be Served
Read the original article from
The Cheat Sheet
The Notorious B.I.G. Hid Clothes From His Mom On the Roof as a Kid
Source:
News Pinoy Buzz