Asjha Cooper returned to her role as Vanessa Taylor in Chicago Med Season 7. Vanessa is Maggie's biological daughter who Maggie put up for adoption when she was young. It's been a rocky road for the pair as they reunite and begin to get to know each other. As of episode 19, Maggie and Vanessa appear to be in a good place. However, fans shouldn't expect things to be smooth sailing for the rest of the season of Chicago Med.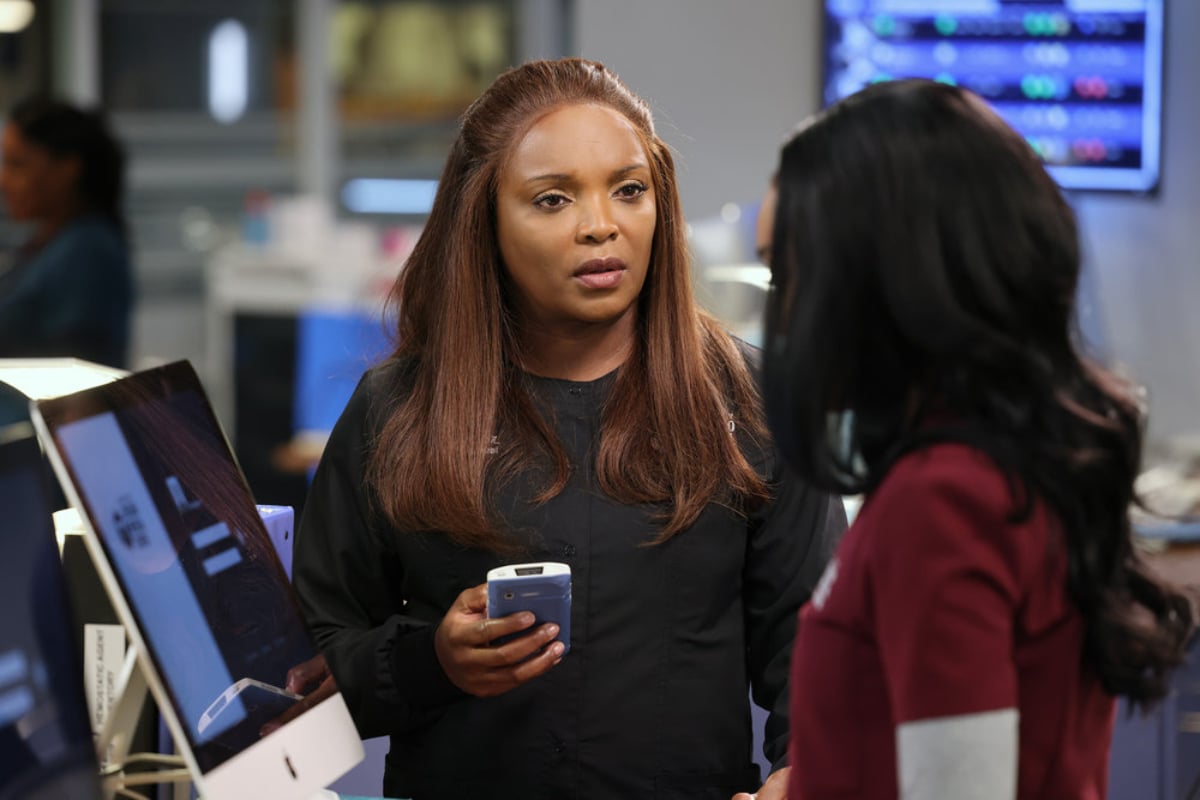 Maggie and Vanessa's relationship has made progress in 'Chicago Med' Season 7
When Vanessa was first hired at Gaffney Chicago Medical Center, she didn't want anyone to know that Maggie is her biological mother. Vanessa was worried that people would think she got the job through favoritism, so Maggie agreed to keep the secret. However, it clearly hurt her to do so.
Luckily, Vanessa had a change of heart. In the fall finale of Chicago Med Season 7, she announced to the whole hospital that Maggie is her mother. This seemed to make Maggie very happy, and the pair have been getting along well since. Vanessa even introduced Maggie to her adoptive parents. However, there's likely some drama in store for the pair before the end of the season.
Andrew Schneider teases not everything will be smooth sailing
While during a One Chicago Press day, Chicago Med Season 7 executive producer Andrew Schneider teased more drama for Maggie and Vanessa, TV Insider reports. "When she went to find Vanessa, she wound up lighting a fuse, and she has no idea where that bomb is gonna go off," Schneider said. "And there's more explosions to come."
Chicago Med Season 7 set up the pins for several potential explosions. For example, earlier in the season, Vanessa was taking Adderall to help her with her grueling work and school schedule. An impending drug test threatened Vanessa's job, so Maggie helped her pass the test.
After Vanessa's announcement, there was also suspicion from the higher-ups that Vanessa was hired due to nepotism. It's safe to assume that if the drug test secret gets out, it could prove catastrophic for the pair. Not only could Vanessa lose her job, but Maggie's whole career could be in jeopardy.
Maggie is an integral part of 'Chicago Med'
It would be a huge shame for Maggie to lose her job for helping her daughter. Actor Marlyne Barrett told TV Insider, "[She's] like this barometer that connects everyone, but in a very different way to a Dr. Charles [Oliver Platt] character. She's running the ED and making sure that the flow of the patients that come in are all cared for, but at the same time, she has this relationship with every single one of them."
Maggie also has strong relationships with her co-workers, particularly Dr. Will Halstead. "That's her brother," Barrett told TV Insider. "With one eye, she's always watching to see how he's doing." The actor continued, "It's all those different dynamics that I think make it special that Maggie has to put those emotions to the side, but also see the running of the ED as a business that must be done well." Hopefully, Maggie doesn't end up losing her job.
Chicago Med airs Wednesdays at 8 p.m. EST on NBC.
RELATED: A Guide to 'Chicago Med,' 'Chicago Fire,' and 'Chicago P.D.' Shows, In Order
Read the original article from
The Cheat Sheet
'Chicago Med' Season 7: EP Teases Trouble Ahead for Vanessa and Maggie
Source:
News Pinoy Buzz