Jay-Z and Nas are two of the biggest rappers. And their massive careers are matched by massive net worths. But which star is wealthier?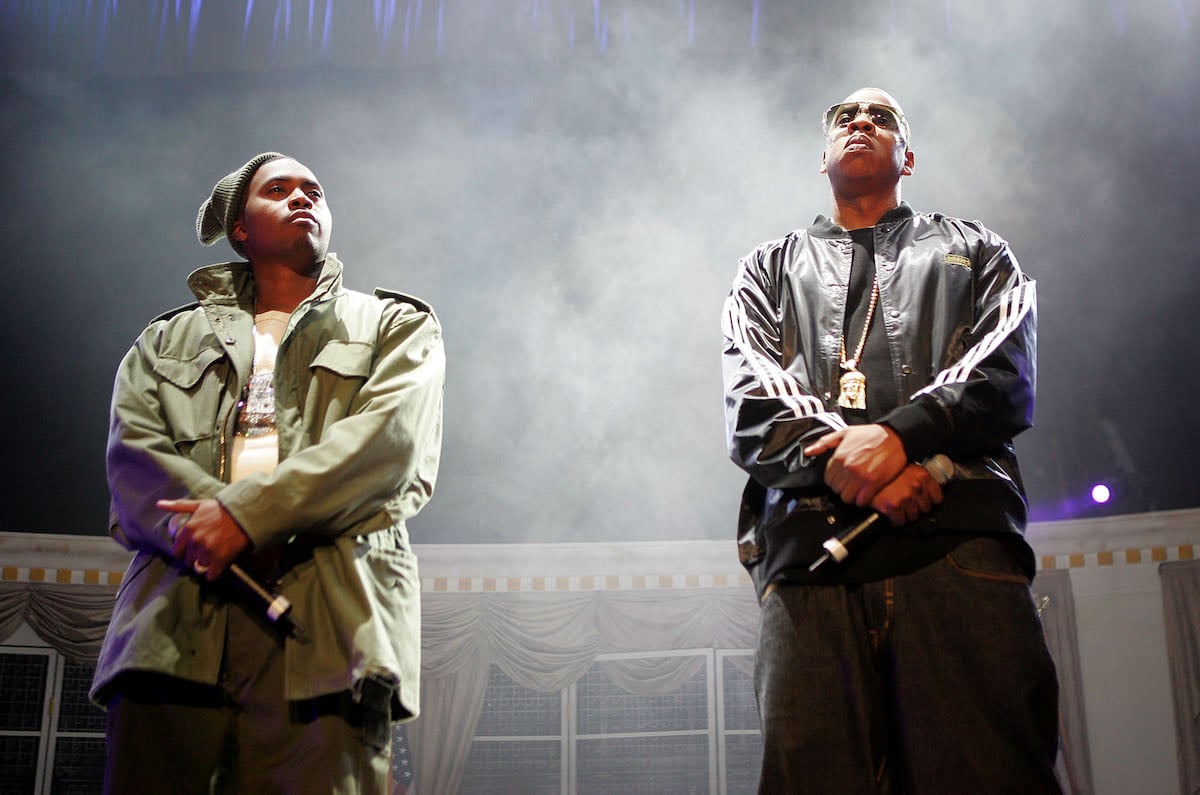 How much is Nas worth?
Nas' net worth hovers around $70 million. Most of his fortune has come from his music, Celebrity Net Worth reports. Nas has been rated one of the top 50 lyricists and one of the 10 best rappers of all time. He has sold millions of records — 10 of his 14 studio albums are certified gold, platinum, or multiplatinum.
The rapper/entrepreneur has been making music since the '90s and is involved in other business ventures. Nas served as the associate publisher for Mass Appeal Magazine, opened a sneaker store, and partnered with the alcohol brand Hennessy. In addition, he has his own clothing line and is working on launching a restaurant chain.
Nas has also invested in various tech start-ups that have become huge. They include Ring, Dropbox, Lyft, Genius, and Pluto TV.
What is Jay-Z's net worth?
Jay-Z is also raking in the cash. The star is worth an estimated $1.4 billion, Cosmopolitan reports. But although he's a hugely successful rapper, much of his wealth comes from investments and businesses. His music catalog makes up only $95 million of his fortune.
Jay-Z began his business ventures early, founding Roc-A-Fella Records in 1995. His albums have sold millions of copies and earned 24 Grammy Awards. He also holds the record for most number-one albums by a solo artist on the Billboard 200. In addition, Jay-Z was the first rapper inducted into the Songwriters Hall of Fame and the first solo living rapper inducted into the Rock and Roll Hall of Fame.
The star's companies and brands have solidified him as a force in the business world. He founded the luxury sports bar chain 40/40 Club, the Rocawear clothing line, and the entertainment company Roc Nation, worth $140 million.
Jay-Z also invested in the champagne brand Armand de Brignac and the cognac maker D'Usse. The two brands are worth $320 million and $120 million.
He also launched his own streaming service, Tidal. Jay-Z and his wife, Beyoncé, boosted subscriptions to the service by exclusively releasing their music on the platform. On top of that, the celebrity couple also holds $70 million in art and $50 million in real estate.
The feud between Jay-Z and Nas
Though the rappers are on top of the world today, Jay-Z and Nas once feuded publicly. The stars traded musical digs for years after Nas blew off a recording session with Hova in 1996.
The feud came to an end in 2005 when the two performed on stage together at a surprise concert. Nas even signed with Def Jam Recordings when Jay-Z was the label's president. They have collaborated many times since then, showing the beef is over.
While Nas and Jay-Z made their names as talented rappers, both artists boosted their wealth by making smart investments and partnering with lucrative brands.
RELATED: Tyga Pays More Than Rob Kardashian for Blac Chyna's Kid's School Even Though His Net Worth Is Lower
Read the original article from
The Cheat Sheet
Jay-Z or Nas: Which Rapper Has the Higher Net Worth?
Source:
News Pinoy Buzz