Outlander Season 6 is currently airing on Starz. But that doesn't mean the cast and crew is on a break. The first season 7 scripts have been written — based on Diana Gabaldon's seventh book An Echo in the Bone — production has begun, and the cameras have officially started rolling. So, season 7 could premiere sooner rather than later.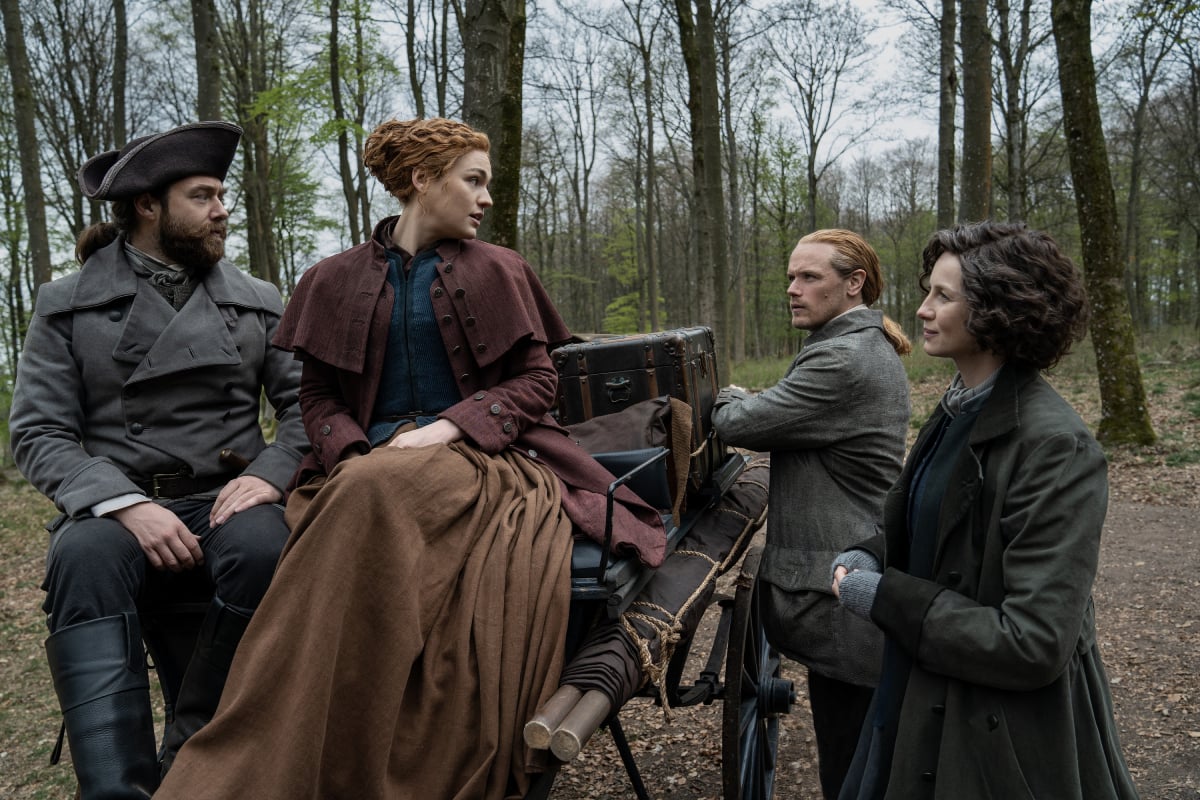 A truncated 'Outlander' Season 6 will result in a super-sized season 7
As fans know, the pandemic delayed production of Outlander Season 6 for almost an entire year. Which resulted in a nearly two-year Droughtlander. So when the cast and crew finally got back on set in early 2021, producers decided to shorten season 6 down to just eight episodes. With the goal of getting the show back on the air as fast as possible.
The short season may be a bit of a disappointment for fans. But the upside is that season 7 will be extra-long and feature a total of 16 episodes.
"We just tried our best to keep everyone safe so we could continue to tell the kind of stories we wanted," executive producer Maril Davis told Entertainment Tonight. "Our production really did an amazing job … We condensed season 6 and got all the good material in there. And then we're going to give you a supersized season 7, which will present its own challenges."
Season 7 may premiere sooner rather than later
Producing 16 episodes will take an entire year, if not longer. So to keep the next Droughtlander to a minimum, filming for season 7 is already underway. Star Sam Heughan (Jamie Fraser) has already shared the first photos from the set on social media.
"Wait!!! Is that @Outlander_STARZ season…. 7!?!?!? yazzz," he tweeted, flanked by Catriona Balfe (Claire), Sophie Skelton (Brianna), and Richard Rankin (Roger).
The Outlander Instagram page also shared the news by telling fans that as they "devoured" season 6, the cast was "already cooking up" season 7.
But the best news of all came from Deadline, who reported that showrunner Matthew B. Roberts promised a season 7 premiere in "late 2022 or early 2023."
Some 'Outlander' season 6 story elements had to wait
Because season 6 only has eight episodes, they weren't able to get to the end of the corresponding book A Breath of Snow and Ashes. They will fix that by adding those story elements to the beginning of season 7.
"Of course, it's always a disappointment if you don't get to where you were planning to go. But we knew that we would be able to take the material we had planned for those back episodes and put them into the new season," executive producer Toni Graphia said on The Outlander Podcast.
"Boy, they're going to be something in the top of that new season which we're already working on right now. We're deep into season 7 the writing, and we're revisiting this right now during the podcast, so it's kind of a treat to go back and see it."
New episodes of Outlander air Sunday nights on Starz.
RELATED: 'Outlander' EP Reveals the 1 Season 6 Storyline That They 'Struggled to Figure Out'
Read the original article from
The Cheat Sheet
'Outlander' Season 7 May Premiere Sooner Rather Than Later
Source:
News Pinoy Buzz