Anna Delvey (Sorokin), whose outlandish story exploded in the press and on Netflix's Inventing Anna, is hosting a private art show in Manhattan – from the isolation in an ICE detention center.
She won't be physically on-site at the Public Hotel, which is by invite only, but Juda S. Engelmayer, president of HeraldPR, who represents Delvey said she may appear via video feed.
"The expectation that she is being piped in by video link through the use of her iPad," he told Showbiz Cheat Sheet. Since Inventing Anna went viral, Delvey has wanted to reclaim her story and drive the narrative. One way to do so is through her art.
Anna Delvey describes works anticipated to be displayed at the art show
The new art show, "Allegedly" comes on the heels of the "Free Anna" art show held in March.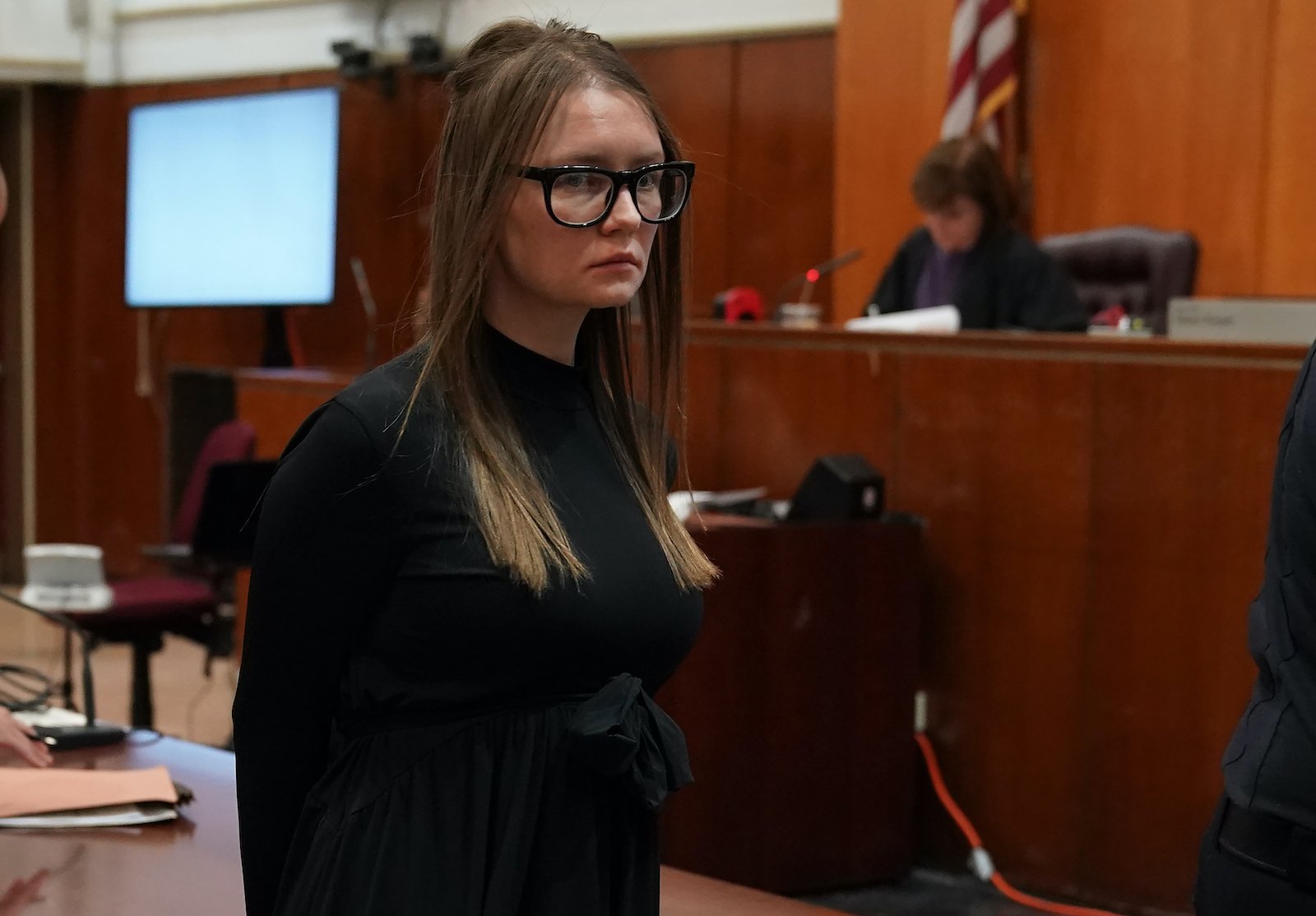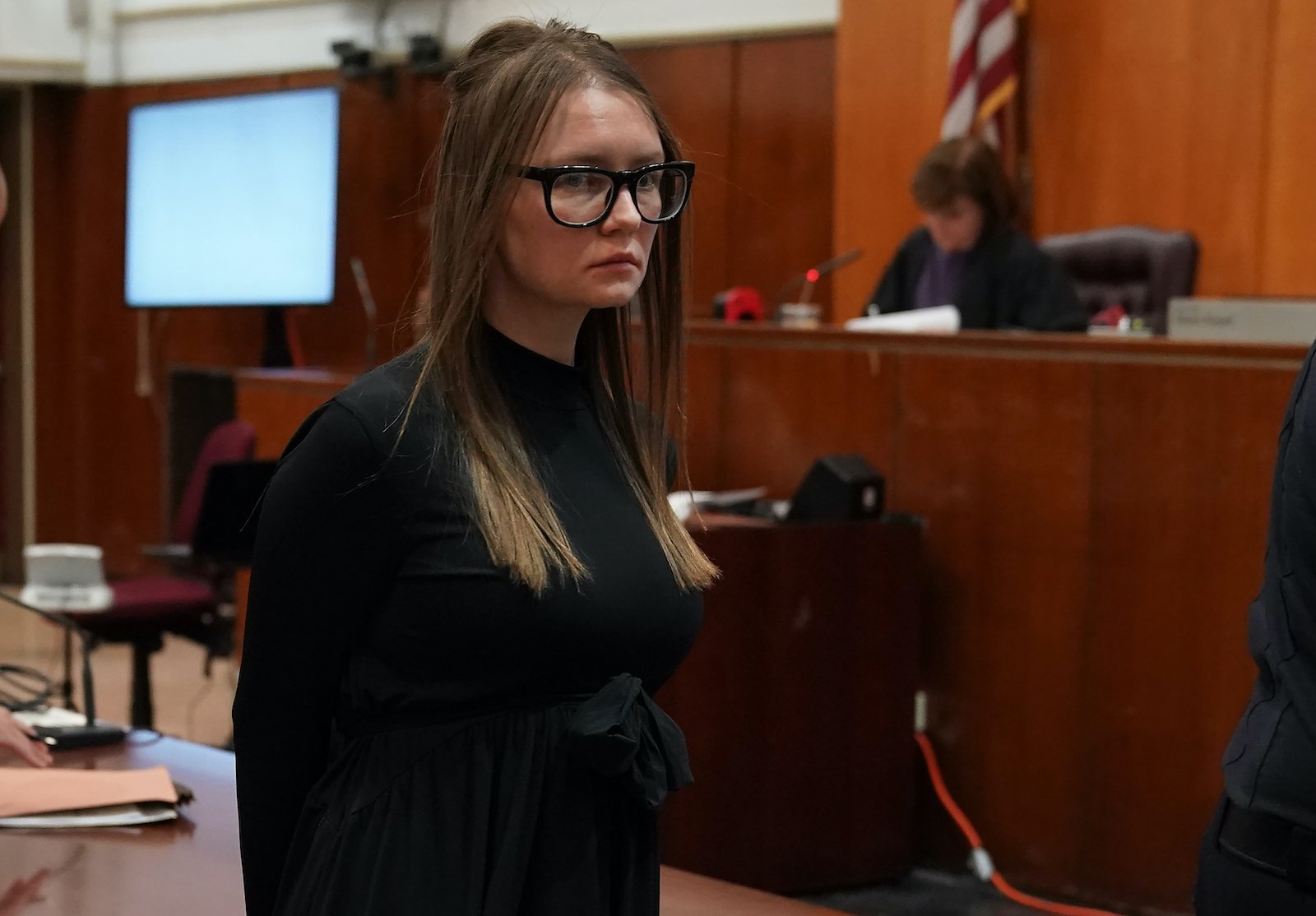 Delvey explained what was behind her latest works. "This is a collection of sketches I've created while in ICE Orange County detention," she said in a statement shared with Showbiz Cheat Sheet.
"I wanted to capture some of the moments of the past years, both never-seen-before and iconic, using the limited tools I have at my disposal. Some of the pieces are straightforward, others are more abstract and will be unique in meaning and appearance to the observer," she continued. Adding,
"You've heard so many voices already, but this is the beginning of me telling my story, my narrative, from my perspective."
Anna Delvey's works from the art show will be for sale
Engelmayer said 21 of Delvey's original pieces will be on display through the Founders Art Club. Limited edition prints are available for sale.
"For any collectors or fans that are interested in owning a piece from this collection, Founders Art Club and Anna will be releasing limited edition print drops (edition of 500) of each of the 21 pieces in the collection on www.foundersartclub.com," he said. "The first print drop will go live on Thursday and the price point will start at $250." The price increases incrementally until sold out.
He urges buyers to act quickly. Plus, "FAC and Anna will launch 10 limited edition print sets of all 21 pieces that come in custom packaging with the name of the show 'Allegedly.' The full sets will retail at $8,500," he added.
"In order to keep the entire solo collection together and increase its overall value, Founders Art Club has purchased the entire collection of works from Anna," he said.
"And instead of selling individual pieces of it, will be selling 48% ownership in the collection to strategic collectors, galleries, and investors. The total valuation of the collection will be set in the $400-500k range."
Why is Anna Delvey still being detained?
Delvey's sketches took on a life of their own as a featured passion in the Inventing Anna series. But she also shared her works while detained at an upstate New York correctional facility. Delvey was originally arrested in 2018 for fronting as a German heiress, attempting to bilk multi-national banks and wealthy individuals out of more than $200,000.
Delvey served three years of her four to 12-year sentence. But she was arrested six weeks following her release for overstaying her visa.
Her attorney Duncan Levin said Delvey served her time and wants to stay in the U.S. "Anna has served her time and now is being held in the custody of the U.S. government, which is trying to deport her based on her conviction in New York," he shared with Showbiz Cheat Sheet.
"If she were to agree to be deported, she could be walking around as a free person in a foreign land. Instead, she is spending her days in custody in the United States, fighting to set the record straight and to be vindicated."
"She has a strong appeal, and that is why she chooses to stay here and fight for her rights, even if that means more time spent in a jail cell," he added. "It's a very brave choice."
RELATED: 'Inventing Anna': Anna Delvey Doesn't Think It Should Matter What She Thinks of the Netflix Series
Read the original article from
The Cheat Sheet
Anna Delvey Anticipated to Appear via Video During Private Art Show 'Allegedly' [Exclusive]
Source:
News Pinoy Buzz