Real Housewives of Beverly Hills star Lisa Rinna had quite a successful acting career before becoming a reality TV star. She originated the role of Billie Reed on Days of Our Lives, starred on Melrose Place and Veronica Mars, and also appeared on Broadway and TV movies with her husband Harry Hamlin.
When she finally made the transition to reality TV, Rinna became an RHOBH fan favorite because she's not afraid to poke fun at herself — specifically her famous lips and shag haircut. She's also been part of some of the show's most memorable moments. But after eight seasons, why have none of Rinna's secrets been exposed on the Bravo series?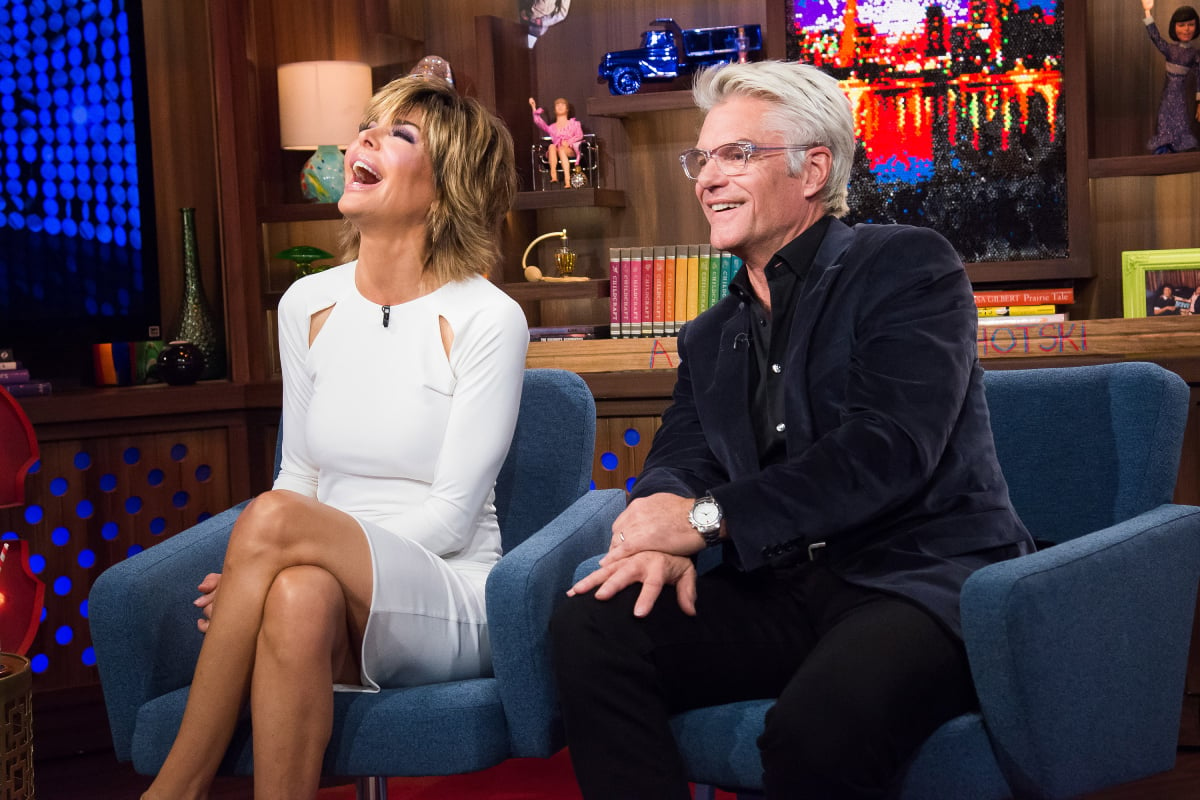 Lisa Rinna's first appearance in the Bravo franchise wasn't on 'RHOBH'
Rinna joined the cast of Real Housewives of Beverly Hills ahead of season 5 back in 2014. However, she made her first appearance in the franchise five years earlier on Real Housewives of New York.
During one of her appearances on Watch What Happens Live, her franchise origin story was revealed by executive producer Andy Cohen.
"Sweetie, you were on season two episode seven [of RHONY]," Cohen said, per E! News. "It was the episode where [Bethenny Frankel] called [Luann de Lesseps] a snake at the fashion show…You were sitting between Kelly Bensimon and Bethenny and it was super uncomfortable, I loved it."
Does Lisa Rinna have a secret deal with Bravo to protect her family?
Rinna says that the person fans see on RHOBH is "a version" of herself that's ready for people "throwing s***" at her. She says she does things on the show that she would never do in real life because her real life is "very lovely and calm."
She's never had any of her secrets exposed on the show, and apparently there's a good reason why. According to Bravo and Cocktails, Rinna has a "secret deal" with Bravo and RHOBH producers to protect her and her family from being "exposed" on the show.
"Why don't Lisa Rinna's rumors ever get exposed?! She's 'protected', she's good tv, and also has been a major actress," the post claimed. "Bravo isn't stupid. They try and press for a personal story on her; she'll freak the F out. It's basically in her contract. She's not the only one in BH with that deal."
The 'RHOBH' star says she doesn't care if she looks 'silly'
Whether she's got a secret deal or not, Rinna says that she's not sure how she got to this point in her life and career. But she knows "it's really nice."
"I don't care if I look silly, and it's super freeing. There were a lot of hurdles. I definitely didn't have this way back then. It's been over the last 10 or 15 years," Rinna told The New York Post.
"I just try not to pay attention to [comments], really. I mean, I'm human, so of course it's going to get me from time to time. But I think at this point I've probably acquired elephant skin. You have to get to a point where you're like, listen, what I do is for entertainment."
New episodes of Real Housewives of Beverly Hills air Wednesday nights on Bravo.
RELATED: 'RHOBH' Fans Think Lisa Rinna Needs To 'Own It' When It Comes to Her Marriage to Harry Hamlin
Read the original article from
The Cheat Sheet
'RHOBH': Lisa Rinna Accused of Having a Secret Deal With Bravo to Protect Her Family
Source:
News Pinoy Buzz