Fans cannot stop talking about Eve Episode 1's intense tango scene that set off the storyline. In the K-drama episode, fans meet Lee Ra-el as she sets her trap to entice LY Group CEO Yoon-kyum. She uses her poise, grace, and seduction while dancing the tango to get him enchanted. But fans wonder who the male dancer in Eve Episode 1 is and how Seo Yea-ji prepared for the role.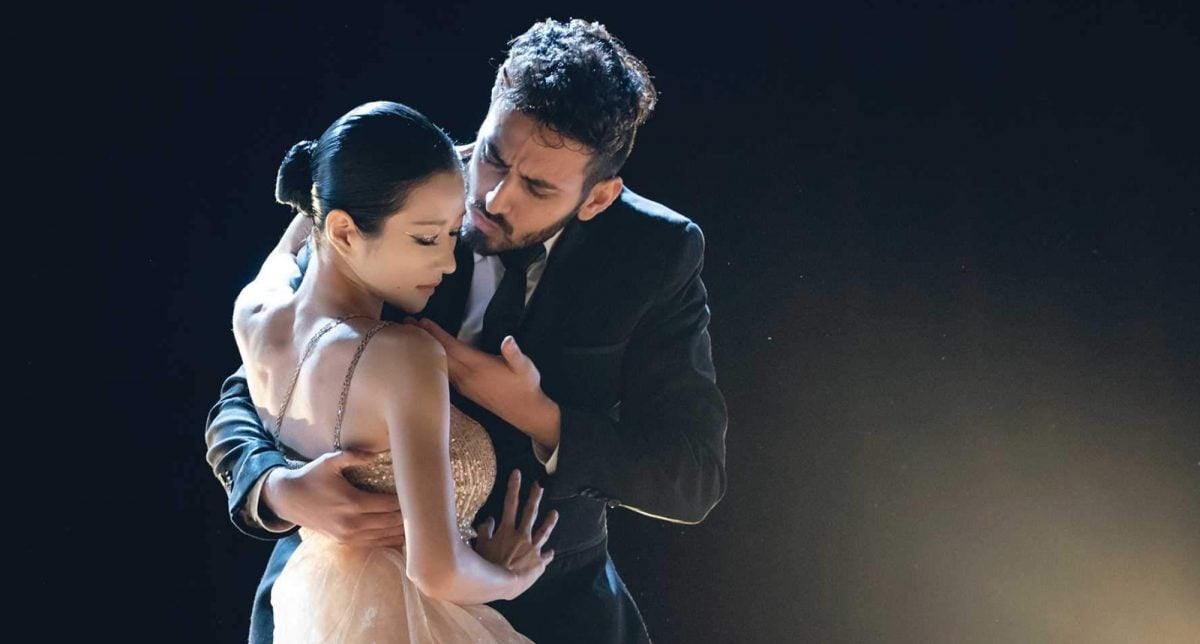 Fans first meet the aftermath of Ra-el's grand plan for revenge in the first episode. Yoon-kyum announces company statistics but does not negate the rumors of his extramarital affair. It sets off a vicious cycle that will ruin him and everyone close to him. At the heart of it all is Ra-el.
The K-drama shifts to three months prior when Ra-el sets her plan in motion. At a showcase at a prestigious kindergarten, Ra-el takes center stage in a beaded gold dress. What catches Yoon-kyum's attention is the sound of a bandoneon, an instrument often used in tango.
Ra-el's presence on stage captivates, and Yoon-kyum is victim to her intense gazes and lustful stares. Fans of the K-drama were enamored with Seo's ability to maneuver across the stage in a fiery tango. In Eve Episode 1, Seo's partner also had fans wondering who the dancer was.
Gustavo Álvarez is the male dancer who helped Seo Yea-ji learn the tango for 'Eve' Episode 1
RELATED: Seo Ye-ji Returns in 'Eve' K-Drama About a Woman Scorned Looking for Revenge
The tango is a passionate dance that must be displayed between a couple or pairing. Just as Seo had fans following her every move during the tango, fans were also watching the male dancer. According to JiniChannel, the dancer's name in Eve Episode 1 is Gustavo Álvarez.
He is from Buenos Aires, Argentina, and is a professional dancer, choreographer, and coach. JiniChannel spilled details about her interview with Álvarez, his time working with Seo, and his time on the K-drama. Álvarez was the one who trained the Korean actor in the seduction of tango.
He revealed Seo, and he spent 45 days non-stop practicing the dance sequence for Eve Episode 1. But Seo did not dance the entire choreography and had some help from a double. The actor's dedication to her role still shinned through as the tango is not easy to master within a short time frame.
On his Instagram, Álvarez has posted photos from tvN of his scene with Seo and behind-the-scenes pictures of him on stage during filming.
Seo Yea-ji dedicated herself to learning the tango and another tango instrument
RELATED: 'Eve' Episode 1: Why Some Fans Have an Issue With the K-Drama's Sex Scene and Age Gap
Besides working with a male dancer for the dance scene in Eve Episode 1, fans were also excited to learn Seo learned to play the bandoneon. The instrument is also seen in the second episode when Yoon-kyum visits Ra-el at her studio. He asks if she knows how to play it, and she entices him further by showing her skills.
In reality, Seo learned to play the bandoneon for the K-drama. In a behind-the-scene tvN video, fans can see Seo playing the instrument while waiting to start filming. The actor's dedication has fans giving immense praise.
"Yeaji learned complex tango in 45 days, studied bandoneon, utterly in awe of how much work this woman put to make sure to perfect every detail for her role, one of the most extraordinary actresses of our generation and not only bc of her incredible talent alone," said the fan. Seo brings the story of a woman scorned to life in a riveting revenge story worth watching.
RELATED: 'All of Us Are Dead' Season 2: Actor Yoon Chan-young Teases His Character's Return
Read the original article from
The Cheat Sheet
'Eve' Episode 1: Who Is the Dancer That Dances the Fiery Tango With Seo Yea-ji?
Source:
News Pinoy Buzz