Lee Ra-el's story of hellfire revenge continues in Eve Episode 3. K-drama fans have seen her master plan slowly unfold as she sinks her claws into Yoon-kyum and begins to break down the people around him. Fans saw how Ra-el's plans go as far back as her husband in Eve Episode 2. The latest episode of the K-drama reveals her husband is not innocent and more about Ra-el's past.
[WARNING: This article contains spoilers for Eve Episode 3]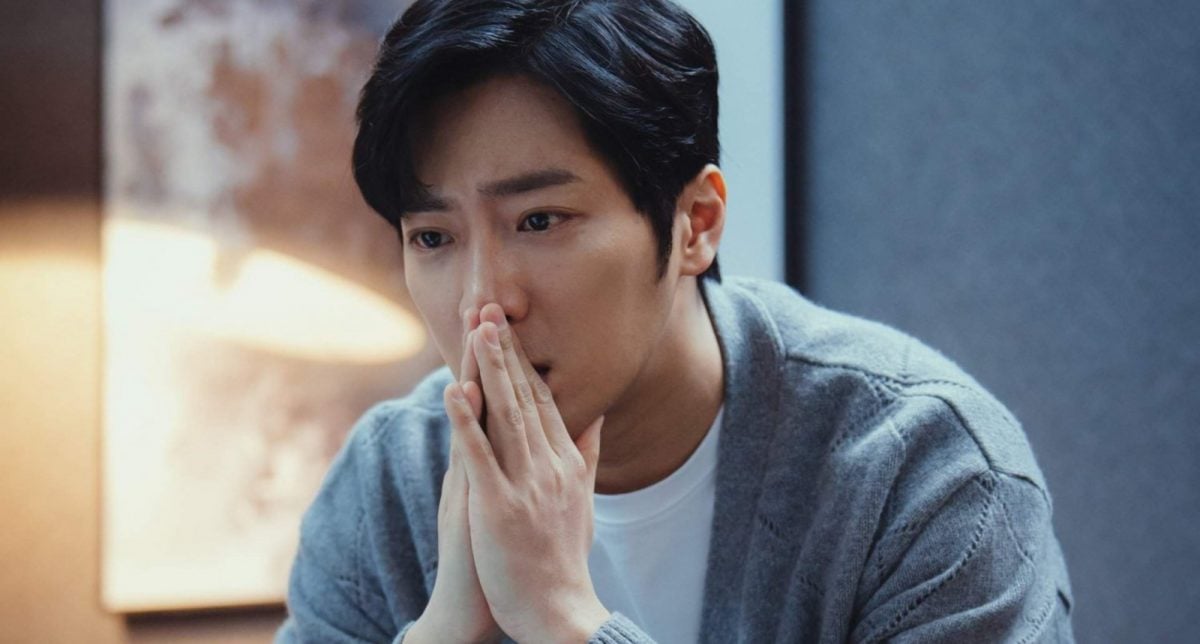 Ra-el begins her plan to get into So-ra's favor as she entices Yoon-kyum in 'Eve' Episode 3
Shortly after the beginning of the episode, fans get more insight into Ra-el's backstory. While looking at her medical files, fans learn she was on the brink of death while in the United States. Ra-el was diagnosed with depression and repeated self-harm after the grief of her family and betrayal. She was also diagnosed with social phobia and body dysmorphia.
In the meantime, Pan-ro advises Jung-chul to get rid of a madam close to Yoon-kyum. Yoon-kyum rewatches Ra-el's tango, completely enthralled. On a new day, Ra-el uses her charm as temporary PTA president to coax over the other school parents and to get close to So-ra. Ra-el becomes So-ra's friend and learns she has a tracker on Yoon-kyum.
Later on, So-ra personally invites Ra-el and her husband to their compound. But Ra-el soon gets a personal call from Yoon-kyum from a blocked number. She and Moon-hee put their plan in motion to find a safe at the compound. On poker night at the compound, Ra-el dazzles everyone by winning with a four-card.
In a private moment together, Ra-el gifts Yoon-kyum tango music she played herself. Yoon-kyum calls out Ra-el for enticing him and studying him. He claims he has no sexual attraction to her. Ra-el is stunned but regains her composure. She says she is unsure if they are twin flames, but it is clear that he is the runner.
Ra-el shows a moment of weakness as Eun-pyeong learns the truth about her husband
RELATED: 'Eve' Episode 1 Recap: Ra-el Sets Her Plan in Motion as the Past Haunts Her
Eve Episode 3 takes an exciting turn when Ra-el cannot mask her emotions at the compound. Jung-chul's unexpected drunk appearance shakes Ra-el to the core. Unable to look him in the eye, she leaves to compose herself and uses a piece of wood to self-harm. But Yoon-kyum discovers her.
Meanwhile, Eun-pyeong discovers the startling truth about Jin-wook, Ra-el's husband. Fans soon learn why she is married to him. Jin-wook was a new employee of Jediks semiconductors, Ra-el's father's company. He was once married but got divorced. The young girl Ra-el is with is not her daughter but her stepdaughter.
Eun-pyeong learns Jin-wook worked with Yoon-kyum in Buenos Aires and was one of the head employees who helped turn over Jediks to LY Group. The episode shows a flashback to 13 years ago.
Jin-wook was there when Ra-el's father's closest friend broke into her home. He was there when she was gravely wounded from falling into the glass coffee table. Jin-woo was the one who excitedly found Ra-el's father's seal.
The identity of Moon-hee is still a mystery as Ra-el takes the next step with Yoon-kyum in 'Eve' Episode 3
RELATED: 'Eve' Episode 1: Why Some Fans Have an Issue With the K-Drama's Sex Scene and Age Gap
Fans know Moon-hee is not Ra-el's mother but another person looking to destroy Yoon-kyum, the prime minister, and everyone else. In a flashback, fans see a teenage Ra-el in the hospital approached by Moon-hee. She tells Ra-el her mother has gone missing, and she will become her guardian. Moon-hee says she understands Ra-el more than anyone and lost her one and only daughter.
The scene pans to show a portrait of So-ra. Could Moon-hee be her mother? Eve Episode 3 ends with Ra-el visiting a music shop where a bandoneon will go to auction. She learns Yoon-kyum has given the store clerk a blank check to buy the instrument.
As they talk about him, Yoon-kyum appears. He follows her and demands to know why she is interested in tango. He thrusts her against the wall and says he knows she is hiding something. Ra-el tries to leave, but he refuses and asks who she really is. The episode ends with Ra-el kissing Yoon-kyum and her saying they should let their bodies talk. In an epilogue scene, fans see Yoon-kyum attending to Ra-el's self-inflicted wound as he asks what pain she is holding on to.
Eve is available to stream on Viki.
RELATED: 'Why Her?' Episode 2: A Breakdown of Gong Chan's Tragic Past and Murder Case
Read the original article from
The Cheat Sheet
'Eve' Episode 3: Ra-el's Husband Is Not the Innocent Man Fans Thought He Was
Source:
News Pinoy Buzz