Stranger Things Season 3 introduced us to Robin Buckley (Maya Hawke,) and she remains at the top of our list of favorite characters. The character's fan base skyrocketed after her initial appearance in the series, and now, she's a part of the leading group of characters solving the mysteries of the Upside Down. What's there to know about her in season 4? Here's our unofficial Stranger Things Robin Buckley character guide.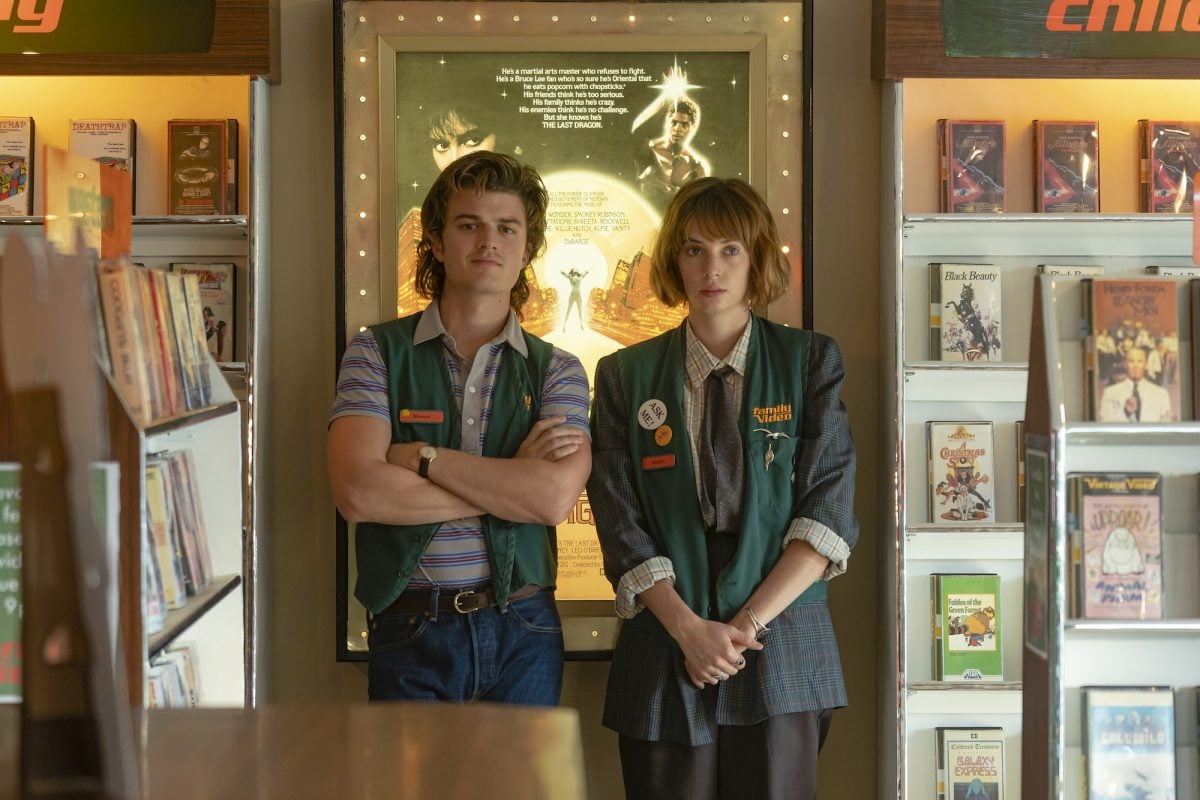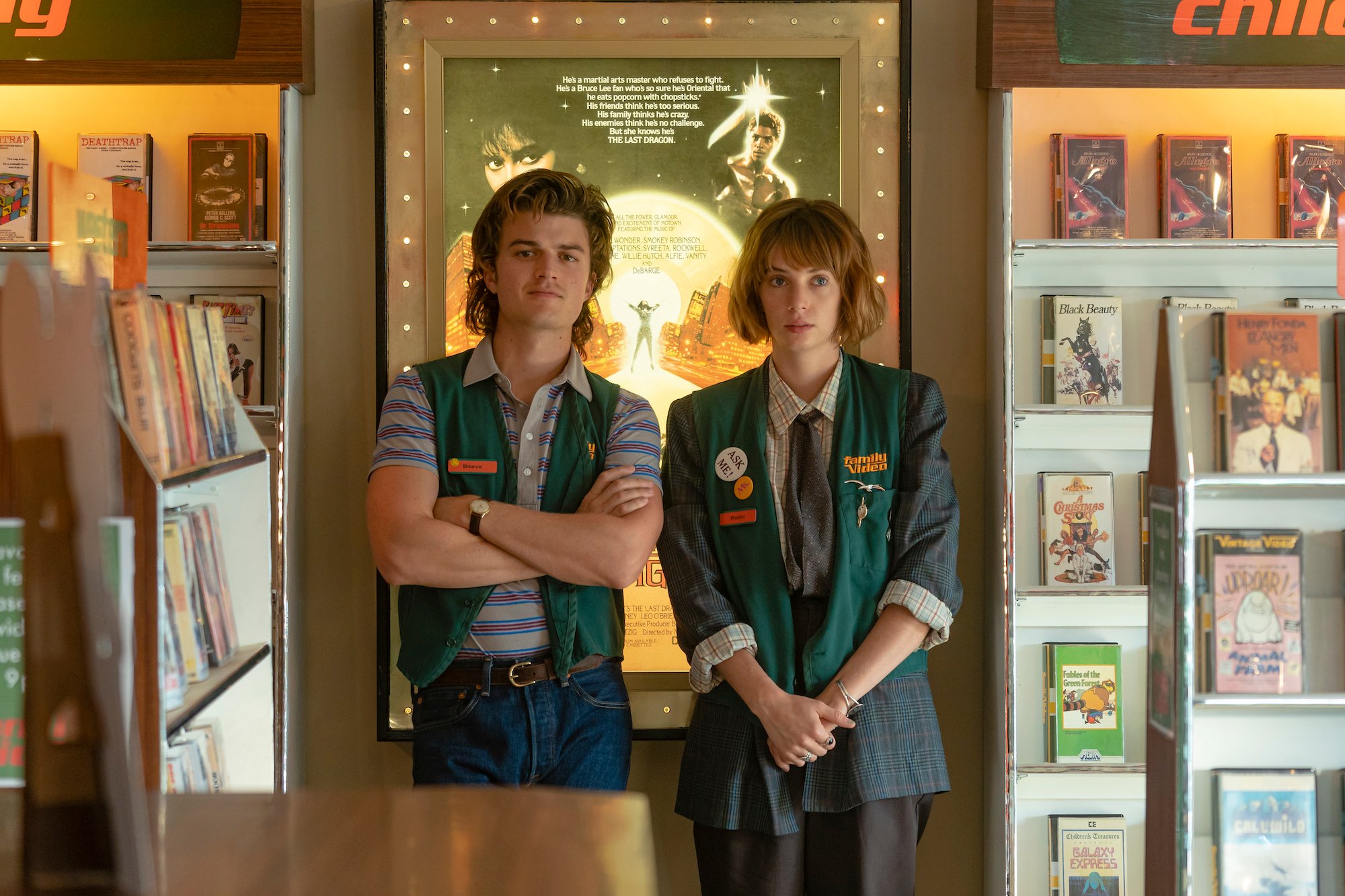 Is Robin Buckley from 'Stranger Things' a member of the LGBTQ community?
Robin Buckley is the first character on Stranger Things to openly say she's a part of the LGBTQ community. In Stranger Things Season 3, fellow character Steve Harrington (Joe Keery) admits to having a crush on Robin. At first, it sounds as though she reciprocates his feelings, but as she continues, she comes out to Steve about her sexuality. Robin identifies as a lesbian and once crushed on classmate Tammy Thompson.
The Duffer Brothers, the creators of Stranger Things, didn't initially write Robin as a gay character. It was Hawke who actually suggested it.
In a 2019 interview with Wall Street Journal, Hawke said, "Throughout filming, we started to feel like she and [Steve] shouldn't get together, and that she's gay. Even when I go back and watch earlier episodes, it just seems like the most obvious decision ever."
RELATED: Vecna Might Have Some Help on the Outside with Ms. Kelly
Who does Robin Buckley have a crush on?
Stranger Things' main story revolves around monsters wreaking havoc on the fictional town of Hawkins, Indiana, and the kids who try to stop them. However, plenty of its viewers love to analyze the relationships on the show. Joyce Byers (Winona Ryder) and Chief Jim Hopper (David Harbour) experience a will-they-won't-they type of tension throughout season 3. Mike (Finn Wolfhard) and Eleven (Millie Bobby Brown) also stand out as a popular couple. When rumors of new character Vickie (Amybeth McNulty) appearing as one of the main characters' crushes in Stranger Things 4, many assumed Robin Buckley would be the one with eyes for her high school bandmate.
Robin and Vickie shared less than five minutes of screen time together in Stranger Things Season 4 Part 1. However, behind-the-scenes photos hint that she pops back up in the final two episodes of the season. Hopefully, Robin and Vickie talk things out about her feelings toward Vickie at some point. Although, we're not sure that confessing her attraction to Vickie in the middle of the Upside Down taking over Hawkins is really the best time for that.
What languages does Robin Buckley speak in 'Stranger Things'?
Stranger Things character Robin Buckley is a teen with many talents. Season 3 showed us how clever Robin is when she cracked the Russian code accidentally leaked by the Russians. Thanks to all her years in band, she tells Dustin (Gaten Matarazzo) and Steve that her "ears are little geniuses." This gives her the ability to pick up on different languages and learn them quickly. She's fluent in Spanish, Italian, and French. Plus, she's well-versed in the language of Pig Latin, which she uses to play a joke on the guys.
Stranger Things Season 4 includes Robin spending most of her time on screen with Nancy Wheeler (Natalia Dyer). Nancy and Robin's personalities clash a bit as Robin is more scattered while Nancy is very Type-A. However, the two become unlikely friends as they try to figure out how to save Max (Sadie Sink) in Stranger Things Season 4.
Stranger Things Season 4 Part 1 is currently streaming on Netflix. Part 2 premieres on July 1, 2022.
RELATED: 'Stranger Things 4': Why There's a Chance Vecna's Obsession with Time Comes into Play
Read the original article from
The Cheat Sheet
Everything You Need to Know About 'Stranger Things' Character Robin Buckley
Source:
News Pinoy Buzz