Stranger Things 4 has taken the world by storm, and Netflix recently announced that the show hit 335 million hours viewed during its first week on the streaming platform. With that said, it's understandable plenty of moms and dads out there would like a Stranger Things parent's guide to help figure out whether or not the show is suitable for some viewers.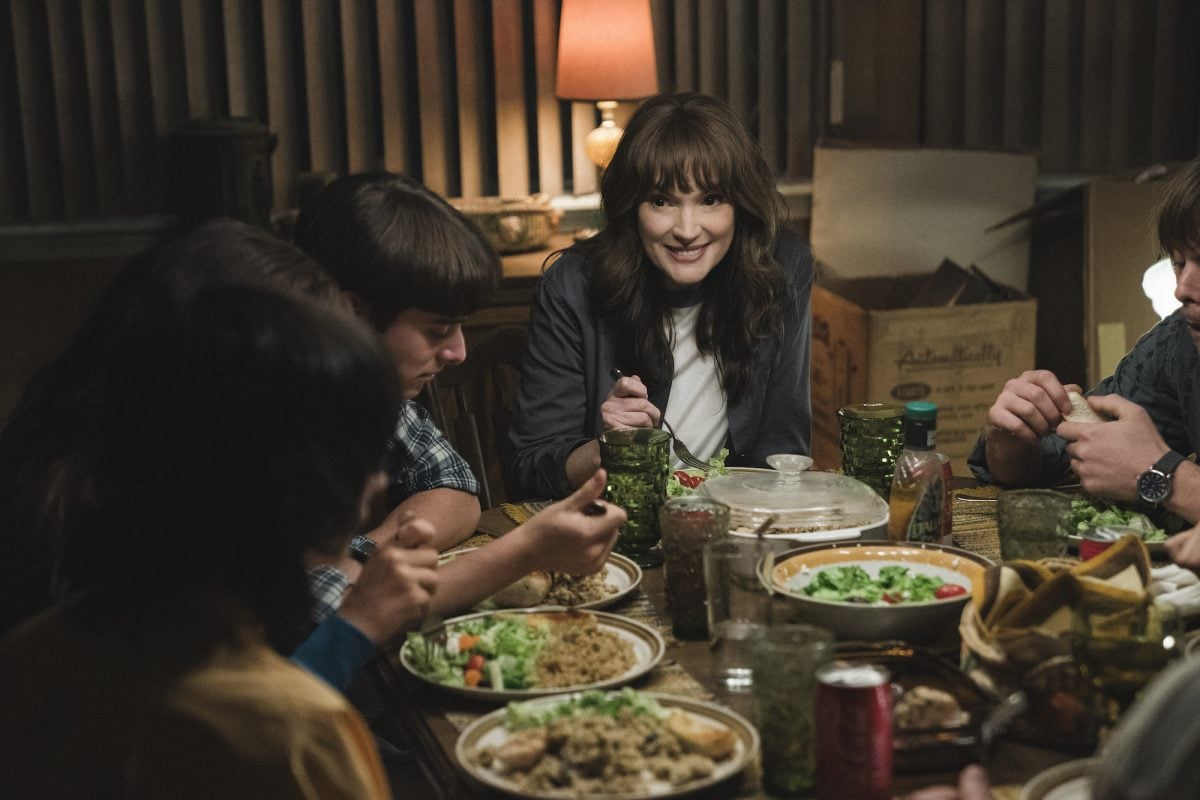 Is 'Stranger Things' ok for a 12-year-old?
Stranger Things appeals to a massive audience of a wide range of ages. The show's nostalgic '80s setting and pop culture easter eggs draw in people who grew up in that era. Plus, the cast made up of rising young stars makes kids clamor to watch it as well. If you're the parent of a pre-teen, there's no doubt you haven't heard your child talk about it. However, is Stranger Things ok for a 12-year-old?
Truthfully, it all depends on the kid. Some middle schoolers might enjoy the thrills that come with the monsters who call the Upside Down home. Stranger Things 4 creators Ross and Matt Duffer repeatedly warned viewers that this season includes the scariest moments of the series so far. This season's villain Vecna gruesomely murders his victims in pretty gory ways, so whether or not your child handles blood and guts very well is another point to consider.
On top of that, the series deals with traumatic events involving child loss and child abuse. Hawkins National Laboratory experiments on young children in cruel ways, and the stuff that happens there might bother younger viewers.
RELATED: 'Stranger Things 4': Why There's a Chance Vecna's Obsession with Time Comes into Play
Is 'Stranger Things' ok to watch with parents?
We dedicate this section of our Stranger Things unofficial parents' guide to any kid who's been accidentally mortified after having to sit through an uncomfortable sex scene with their parents. Thankfully, Stranger Things keeps all of the relationship scenes PG. The show never includes outright nudity, but in season 1, there's some pretty heavy petting between Nancy Wheeler (Natalia Dyer) and Steve Harrington (Joe Keery). We also see Nancy in her bra, so if that's something that makes you uncomfortable to watch with your parents, don't say we didn't warn you.
Stranger Things keeps the romances fairly tame. The show's focus centers more on the Upside Down, Dr. Martin Brenner's (Matthew Modine) evil scientist operations, Eleven (Millie Bobby Brown), and her friend's adventures.
Is 'Stranger Things' scary?
The most popular question that prompted our Stranger Things parents' guide always returns to whether or not the series is scary. From the beginning, Netflix billed the show as a mashup of both sci-fi and horror. A monster known as the Demogorgon kidnaps a young boy in Stranger Things Season 1. The creature doesn't have any eyes but makes up for it with the number of sharp teeth in its mouth. It feasts on blood so expect more than a few gruesome scenes.
Horror movies like A Nightmare on Elm Street, The Thing, and It heavily inspired Stranger Things 4, so if you typically stray away from films like that, you might want to skip it. While the rating on the series stands at TV-14, keep in mind that it leans toward the more mature end of the scale.
Stranger Things 4 Part 1 is currently streaming on Netflix. Part 2 premieres on July 1, 2022.
RELATED: 'Stranger Things 4': Did Gaten Matarazzo and Caleb McLaughlin Just Leak Lucas Is Vecna's Victim in Volume II?
Read the original article from
The Cheat Sheet
Should You Let Your Kid Watch 'Stranger Things?' Here's Our Parent's Guide
Source:
News Pinoy Buzz