The main ingredients for soap operas are love, scandals, and betrayals. Love triangles cover a major portion of drama series like The Bold and The Beautiful and its sister show, The Young and The Restless.
One of the central characters on The Bold and The Beautiful, Steffy Forrester, has been involved with several leading men. Here is everyone Steffy has been in a relationship with.
Everyone Steffy Forrester has dated on 'The Bold and The Beautiful'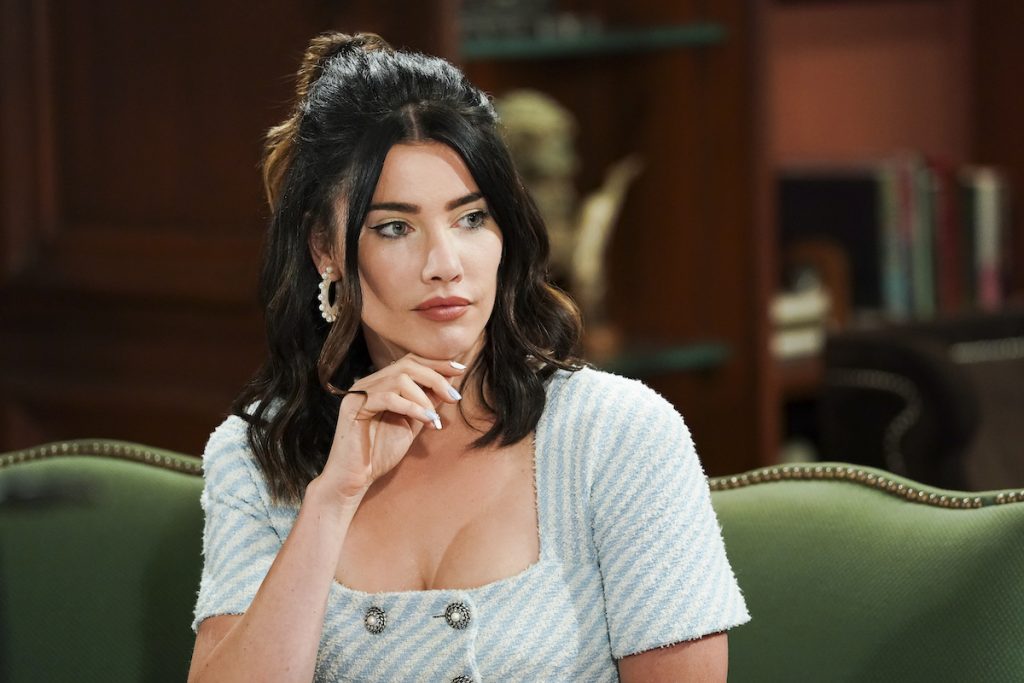 Steffy first got involved with Marcus Forrester. But when Rick Forrester entered the picture, he sent Marcus to Forrester International to make Steffy available. Rick, at the time, was dating Steffy's fraternal twin Phoebe. When they broke up, he slept with their mother, Taylor, which hurt Phoebe.
Rick and Phoebe had an altercation in the car that resulted in Phoebe's death. Rick and Steffy found solace in one another and began dating. She called off their engagement when she learned Rick had proposed to her to piss off her father, Ridge.
Steffy pursued Owen Knight after he saved her life, but nothing more than a kiss happened between them. Steffy pursued Bill when he came into the picture and he reciprocated her feelings. She also used him to get back control of Forrester Creations.
Steffy and Liam met when she did a tribute video to apologize for attempting to blackmail Brooke into leaving Ridge. The two never dated but remained in each other's orbit. She rekindled her lust for Bill, who'd attempted to murder Amber Moore. While Kate didn't understand his motives, Steffy did, and Bill loved her for it.
However, they broke up when Bill's wife, Katie, had a heart attack. Steffy and Liam began having an on-again, off-again situation and even got married twice.
The drama in Steffy's marriage
Steffy and her husband, Dr. John Finnegan, met when she got into a bike accident while pursuing Bill. At the time, she was pregnant with Liam's child, whom she lost due to the accident. Finn and Steffy formed an instant connection. He paid her home visits to ensure she recuperated well.
The two often spent their time together, and Finn even spent some nights at her place. Things between the two escalated fast, and they began dating. For a while, Steffy was happy. But her one-night stand with Liam ruined things. Finn forgave her and even proposed with a ring he acquired from his mother, Li Finnegan.
The two walked down the aisle. But the evil Sheila Carter disrupted the festivities with a chilling announcement. She informed the doctor that she was his birth mother, throwing Finn for a loop. He tried to get to know his birth mom, but Sheila was determined to have him all to herself.
Sheila made plans to kidnap Steffy and Finn's son Hayes so they could be a big family, but Steffy intercepted her plans. Sheila drew her gun; Finn jumped in the line of fire and got shot instead. He was pronounced dead on the scene, but as viewers found out later, he is still alive and under the care of his mother, Li.
'The Bold and The Beautiful' fans no longer want this love triangle
Steffy's storyline has, for the longest time, involved her romance with Liam. This has put her in a love triangle with her step-sister Hope. The trio had a back and forth. Liam never settled on one woman for a long time — until recently.
Steffy and Liam began dating when he saved her from drowning in a bathtub. She and Hope fought for his affection and attention until she met Finn. Since then, Steffy has focused her attention on Finn and her children.
Hope and Liam have remained together. Fans are happy with the arrangement.
RELATED: 'The Bold and the Beautiful': Fans Can't Believe Steffy Keeps Getting Pregnant Without Knowing Who the Father Is
Read the original article from
The Cheat Sheet
'The Bold and the Beautiful': Everyone Steffy Forrester Has Been In a Relationship With
Source:
News Pinoy Buzz